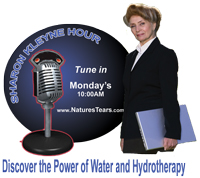 Grants Pass, OR (PRWEB) June 01, 2012
According to author Brian Clark Howard, the manufacture of a single t-shirt requires an estimated one-thousand gallons of water (including the water used to grow the cotton). The irony is that we now have the technology to grow cotton using far less water.
That is only one example, says Mr. Howard, of the shameful and unnecessary water waste that contributes to global water shortages. These shortages too often result in widespread dehydration diseases, economic stagnation and devastating water wars. As Earth's population skyrockets, 1.6 billion of its 7 billion human inhabitants lack necessary clean water just to remain healthy.
On April 16, 2012, Brian Clark Howard was interviewed on the Sharon Kleyne Hour Power of Water syndicated talk radio show. Howard is an author and former National Geographic reporter who now hosts a website dedicated to environmental issues (http://www.brianclarkhoward.com). His latest book is Build your Own Small Wind Power System (McGraw-Hill, 2011).
Sharon Kleyne began the interview by noting that people tend to "think small" when it comes to water. In the United States, as long as household water is relatively cheap, stories about water starved people in Somalia and Kenya have little impact. The truth is that household water accounts for only five percent of fresh water use by humans. Most of the remainder goes to agriculture – producing the food we eat – and industry.
Agricultural water use worldwide has been notoriously wasteful. With traditional irrigation systems, the vast majority of water is not utilized by the crop plants and there is little or no attempt to recycle. Drip irrigation, and the use of organic mulches to retain soil moisture, requires far less water.
Mr. Howard noted that producing one gallon coffee requires 880 gallons of water while producing one gallon of tea requires only 128 gallons. Also, growing meat requires far more water than does growing plants with the same nutritional value.
Sharon Kleyne asked about water runoff and the increasing need to maintain our natural ground water aquifers as the population increases, ever more water is pumped from the ground, and annual rainfall diminishes. According to Mr. Howard, the top of the Ogallala Aquifer, largest in the United States and underlying much of the northern and central Great Plains, has dropped 100 feet farther into the ground in recent years.
Sharon believes that surface water storage (man-made reservoirs) can help recharge aquifers and that surface water storage also increases the air's humidity, which benefits nearby plants.
Sharon Kleyne and Brian Clark Howard also discussed water wars, especially in Yemen and Iraq. The agreed that many wars ultimately trace back to water. The recent Syrian protests were started by increased food prices due to water shortages.
Sharon reiterated her strongly held conviction that water for personal consumption and sanitation should be free or virtually free and that providing safe and abundant water is one of the most important functions of governments to stimulate economic growth.
According to Brian Howard, there is also positive water news. In the United States, many political units are working together to solve water issues. Israel and Jordan have agreed on a joint water policy regarding the badly polluted Jordan River. And the independent city of Singapore now recycles 100% of its water (a system that Los Angeles has been studying).
The Sharon Kleyne Hour Power of Water is broadcast live on Mondays, 10 a.m., PST/PDT. The syndicated talk show is heard on Voice America/World Talk Radio, Green Talk Network and Apple iTunes. Go to http://www.SharonKleyneHour.com for written summaries and on-demand replays.
© 2012 Bio-Logic Aqua Research