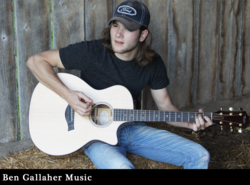 My message to young people is a message I'm still living: Never give up! We all have talents and gifts, and young people can learn from people who have overcome the odds. If you believe in yourself, then you'll make it! -- Ben Gallaher
Harrisburg, PA (PRWEB) June 01, 2012
Progressive Education of Children in the Arts Network Inc., (PECAN) a Pennsylvania-based non-profit for the arts, has awarded Ben Gallaher the 2012 Arpeggio Award to "recognize a celebrity who is a good mentor and sets a good example helping youth to create harmony in their lives through the arts."
Gallaher will be recognized at PECAN's 15th annual Celebration of Children showcase on July 15, 2012, at the Forum in Harrisburg, Pa. This statewide, yearly program of artistic talent will begin at 3 p.m. and feature children up to age 18 as singers, dancers, instrumentalists, public speakers, gymnasts, and even wheelchair dancers.
"Ben Gallaher embodies the talent, character, and determination that young people can relate to and learn from. When our organization saw Ben's new country music album on iTunes, and then watched his YouTube videos, we noticed not only amazing talent, but his Eagle Scout videos further impressed us. We saw the young people who supported him in building his church project, and we saw the fans relate to him when he performs," says Shirley Nolt, founder of PECAN.
Gallaher is a junior at Belmont University in Nashville, Tenn., where he majors in entertainment industry studies and performs weekly. "I am incredibly honored to receive this award. My music path is probably a little different than most. I do not have formal music training, but I love to play guitar, write songs, and perform. I love to entertain and see fans respond to my music. During my senior year in high school, I applied to the college of my dreams, Belmont, which is one of the country's premier music colleges. I was not accepted, and I was devastated. My parents told me to never lose sight of my dreams and to keep working hard. I was accepted at Penn State University and spent my freshman year at the Mont Alto campus meeting great people and studying hard," said Gallaher.
"I made Dean's List both semesters and then reapplied to Belmont. This time I was accepted and have been amazed at the music industry connections I've been able to make. My message to young people is a message I'm still living: Never give up! What do musicians do when times get tough or things don't go your way? You write a song about it, and that's what I did. We all have talents and gifts, and young people can learn from people who have overcome the odds. If you believe in yourself, then you'll make it!"
PECAN Inc. believes in the inclusion of all youth despite their level of giftedness, and they give children an opportunity to explore their talents. "Music and visual arts play an important role in helping students learn, achieve, and succeed. Studies have proven that the arts can raise long-term academic achievement, decrease drop-out rates, and lay a foundation for a stronger work force," says Nolt.
Prior Arpeggio Award winners include Aaron Kelly, Top 5 on 2010 American Idol (2011); Tina Davidson, critically acclaimed composer (2010), and Jim Rule, singer and songwriter (2009).
Get tickets to PECAN's Celebration of Children and to hear Ben Gallaher perform along with other award winners. Listen to Ben Gallaher's newly released album on iTunes.
To learn more about Ben Gallaher and where he's performing next, check him out on Facebook.