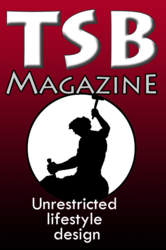 Hoboken, NJ (PRWEB) June 11, 2012
TSB Magazine, a popular dating advice and men's interest web site, is offering one of its most widely-read ebooks for free to anyone who clicks the like button on the TSB Magazine Facebook page.
Teasing and Banter Cheat Sheets, a 22-page ebook that also sells on Amazon.com, focuses on strategies that guys can use to create rapport with women that they are attracted to. By liking the magazine on Facebook, fans will receive a free download of this book. The Teasing and Banter Cheat Sheets download has been offered as a supplement to the Make Small Talk Sexy course created by Bobby Rio, author, dating expert, and founder of TSB Magazine. All of Rio's dating-related publications can be found on his Amazon.com author page.
The Teasing and Banter Cheat Sheets download offers socialization strategies that guys can use to strike up a conversation with a woman who they have never met before. The material is mainly aimed at shy guys who have trouble creating rapport and flirting with women because of their introverted nature. In this book, Rio shares his own personal experience of overcoming shyness and learning how to approach women and engage them in dynamic conversations. The Teasing and Banter ebook moves on to offer lines that guys can use to start a conversation and then explains various strategies for how to move from these initial lines to the titular "banter."
In addition to the collection of first lines, which are classified by the type of situation that they work best in, the Cheat Sheets offer advice on how to feel comfortable in social situations and how to overcome issues such as drawing a blank during a conversation or talking to a women who already has negative expectations. Overcoming these obstacles is the main focus of Rio's entire Make Small Talk Sexy course. The course expounds on the flirting, banter and rapport-building basics offered on the Cheat Sheets. It explores more in depth strategies, not only for how to approach women but how to use small talk to keep the relationship interesting and exciting as it continues past the first meeting. In addition to being a supplement to the Small Talk course, Teasing and Banter Cheat Sheets is sold as a stand alone product on Amazon.
The PDF also gives advice on reading a girl's interest level.
The Teasing and Banter Cheat Sheets ebook is one of the numerous tools that TSB offers to guys who want to become more successful in the dating game. However, it is currently the only downloadable that the magazine is offering for free. TSB's main web site regularly publishes dating advice articles, as well as general men's interest stories. The site is updated several times each day. TSB readers can also get updates on news, new TSB publications, and dating related tidbits on the magazine's Facebook page and YouTube channel.
For more go to TSB Magazine's Facebook Page: http://www.facebook.com/TSBMagazine