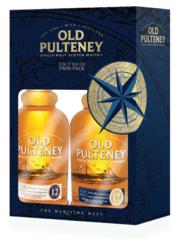 (PRWEB) June 04, 2012
Old Pulteney Single Malt Scotch Whisky is launching a limited-time only promotional pack that will be available at select fine retailers in June. Each package will include a 12-year-old and 17-year-old 375mL bottle of Old Pulteney, making it easy for whisky lovers to sample the esteemed portfolio.
Aged in ex-bourbon casks, Old Pulteney 12-year-old is medium bodied and smooth with slightly spicy notes, while Old Pulteney 17-year-old is matured in ex-bourbon and sherry casks making it full bodied with hints of vanilla and floral notes. The award-winning single malt recently received two of the most prestigious awards in the spirits industry: a Gold Medal for its 12-year-old and a Double Gold Medal for its 17-year-old at the 2011 San Francisco World Spirits Competition. Further recognizing the brand's standing among experts' opinions, Old Pulteney was named World Whisky of the Year in Jim Murray's 2012 Whisky Bible Awards for its 21-year-old.
Referred to as "The Maritime Malt," Old Pulteney embodies the genuine seafaring history and heritage of Scotland. The distillery is one of the oldest and operates in Wick, the most northerly point of the Scottish mainland.
The gift set sells for a suggested retail price of $60 and is available for purchase at select retailers in California, Washington, Illinois, Massachusetts and New Hampshire.
About Old Pulteney
Old Pulteney Single Malt Whisky is crafted at Pulteney Distillery in Wick, Scotland. The distillery was founded in 1826 by James Henderson at the height of Wick's herring boom. The distillery lies in the heart of "Pulteneytown," which was one of the largest and most important herring fishing ports in Europe.
Old Pulteney has a long standing association with the sea and is the official scotch of U.S. Sailing. Its carefully crafted taste carries the windswept and rugged character of the North, the salty and fresh air of the North Sea, and the distillery's rich maritime heritage runs through every drop of this fine malt.
About International Beverage Holdings
Old Pulteney is produced and marketed by International Beverage Holdings (http://www.interbevgroup.com). It was established in 2005 as the international arm of ThaiBev, one of South East Asia's leading alcohol beverage companies. With a network of regional offices in Asia, Europe and North America, the company is responsible for the production, sales, marketing and distribution of a portfolio of premium global brands in more than 80 countries and territories.