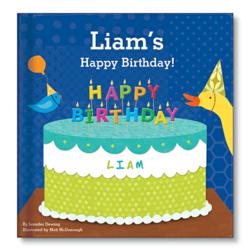 I just discovered a new book from the folks at I See Me!: "My Very Happy Birthday" book, and my obsession continues.
Minneapolis, MN (PRWEB) June 05, 2012
Baby's 1st birthday is a BIG reason for celebration. According to mom blogger Simple Mom Reviews, "We celebrate the first birthdays pretty big in our house and try to add the little touches that make it memorable down the road." Here are eight tips from I See Me! Inc. for making your baby's 1st birthday celebration a memorable and special one:
1. Give A Personalized Gift:
According to Meredith Carroll, contributor at babble.com, "I just discovered a new book from the folks at I See Me!: "My Very Happy Birthday" book, and my obsession continues. It's one of those birthday gifts you can give a kid that you know will be cherished for years on end thanks to its charming illustrations and story, and the fact that it's centered directly on the child." According to Carroll, when "I discovered the I See Me personalized books, they very quickly became my go-to gifts. I have given and received the I See Me personalized children's books as gifts more times than I can count, as I know from experience how special it can be for kids to own a book that's all about them. Pure magic, really."
2. Let them eat cake!
Get the video ready! There is nothing cuter that seeing them joyfully smash their little hands into the frosting atop their 1st birthday cakes. Enjoy the smiles!
3. Sometimes less is more
Babies can easily get overwhelmed at age 1. So, sometimes less is more. Keeping baby's party simple with a few favorite guests can sometimes be just the ticket to baby staying happy and smiley during the big event.
4. Timing is everything
Try scheduling baby's celebration before or after his or her nap time to make sure he or she is happy and relaxed. Baby is sure to have a great time when well-rested!
5. Take plenty of photos
Chances are, you'll be busy with baby during the party. Be sure to appoint a friend or relative to take lots of pictures during the celebration. You'll love looking back on all of the great photos as baby grows up!
6. Balloon time
Nothing sets the stage for a great party like some bright and colorful balloons. However, latex balloons can be a choking danger for little ones. Be sure to choose the Mylar balloons instead, so you can rest easy and keep a safe birthday environment.
7. Dress baby for the occasion
Here's a cute idea! Get a solid color "onsie" and decorate it with baby's name and "#1" with fabric paint.
8. Have your guests sign in
Years from now, it will be fun to remember all of the guests who came to celebrate your baby's big day! Try putting out a giant poster board or card for all of the guests at the party to sign and write notes on.
I See Me! Inc. creates high-quality personalized children's books that celebrate the uniqueness of each child and build self-esteem. I See Me! Inc. products are personalized with the child's name. You can also connect with I See Me! on Facebook or on Twitter.