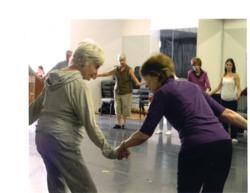 Dancing gives me a break from being a 'Parkinson's patient' for an hour a week. It takes me out of myself and helps me cope creatively. Brian - Dance for PD Participant, Denver
Denver, CO (PRWEB) June 06, 2012
By using rhythm and muscle memory as therapeutic tools, individuals with Parkinson's improve their mobility, efficiency of movement, and quality of life off the dance floor, while enjoying a new means of artistic expression within a supportive community of fellow dancers, often struggling with similar obstacles.
Dr. Huett describes, "Most of us have experienced first hand the stimulating effects of dance. What we are providing through this program allows individuals with movement disorders, such as Parkinson's Disease, the opportunity to rediscover, or even learn new ways to utilize muscle memory, rhythm, and repetitive movement set to music to improve the limited mobility caused by their disease. After all, once you strip away the artistic value, dance is a series of motions and steps. It is performed for a purpose, or with intention. Dance requires balance, body control, and rhythm, to perform even the most basic repetitive movements. And as any professional dancer would attest, it takes practice to fine tune these skills through muscle memory. We're taking that same approach of stimulation, discovery, practice, and muscle memory used by dancers to help those limited by movement disorders to improve their mobility, and hopefully improve their independence. Best of all, it's really a lot of fun!"
After learning about the Dance for Parkinson's or "Dance for PD" program launched by the Mark Morris Dance Troupe in 2002, Dr. Huett contacted the Brooklyn-based director, David Lowenthal, to inquire about opportunities to offer similar classes in Denver. "We were already working with adults who never thought they could learn to dance, given barriers they perceive due to 'weight, age, and lack of rhythm'…or simply not daring to do something so simultaneously creative and physically challenging since childhood," states Huett. "Naturally, individuals with Parkinson's Syndrome, experiencing the progressive loss of movement and restriction in their mobility, probably wouldn't consider pursuing something so active and dynamic…actually DANCING, without some encouragement. Thankfully, there are opportunities, such as Dance for PD, that benefit these individuals once they generate the courage to give it a shot. The idea of reaching out to individuals with Parkinson's, Multiple Sclerosis, and other physical conditions is so exciting – because dance comes in so many forms…can be done seated, standing at a ballet barre, or with the support of others in a circle," exclaims Huett.
Coordinating with other local dancers from the Colorado Ballet and Ballet Nouveau, Dr. Huett and three other professional dancers partnered with the Parkinson's Association of the Rockies offering classes for individuals in the community afflicted with Parkinson's Syndrome, Multiple Sclerosis, and other medical conditions affecting the body's ability to move. The first Denver sessions where held September 12 through November 14, 2011, and widely attended. Almost immediately, 35-40 adults with Parkinson's syndrome enrolled to participate in the classes, held weekly. Due to the level of participation and enthusiasm that continued throughout the winter and spring sessions, Denver's Dance for Parkinson's classes will now be offered continuously throughout the year.
The Dance for PD program, originally developed by the prominent Mark Morris Dance Group, parallels the holistic teaching approach followed by Dr. Huett within her Denver-based dance and movement studio, TranZenDance. The class format and teaching philosophy utilized at TranZenDance goes beyond simply breaking down the moves, but also emphasizes the importance of self-discovery, personal expression, and fun. Both Dance for PD and TranZenDance understand the importance of the mind-body connection in achieving optimal health and self-improvement.
Both Dance for PD and TranZenDance Studio have found a common approach independently, and together continue to focus on their students' abilities instead of limitations, strengths in lieu of weaknesses, and what goals can be achieved instead of those that obstacles that can never be overcome.