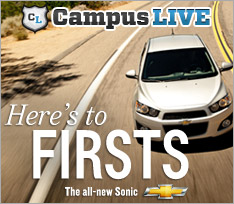 Chevrolet is working with CampusLIVE because its highly engaged, enthusiastic audience mirrors the youthful, adventurous spirit of the Sonic.
Boston, MA (PRWEB) June 06, 2012
Today, CampusLIVE announced that Chevrolet is using its platform to launch and run its 'Stay Clutch' contest promoting the 2012 Sonic.
CampusLIVE designed and created the 'Stay Clutch' Challenge to live on the CampusLIVE website and Chevrolet Sonic's Facebook fan page.
College students and young professionals will compete to win 4 grand prizes that include a special class at the 'Stay Clutch' driving school taught by a celebrity instructor in Kansas City, MO, as well as tickets to the 2012 State Farm™ Home Run Derby® and MLB® All-Star Game®.
Chevrolet's 'Stay Clutch' contest centers around the all-new 2012 Chevrolet Sonic which delivers an EPA-estimated 40 mpg highway with class-leading acceleration when paired with the 1.4L turbo and six-speed manual transmission.
Many first-time manual drivers are on the roads, and the Sonic wants to help novice stick drivers learn to master the clutch.
Participants in the 'Stay Clutch' Challenge will watch an instructional video and submit a video telling Chevrolet why they want to learn to drive a stick and "Stay Clutch."
CampusLIVE creates social action and guarantees results by engaging the highly influential 18-34 demographic on a deeper level than ever before through its design-tech platform.
To see the 'Stay Clutch' Challenge in action, visit: http://www.campuslive.com/go/chevy.
"We are proud to partner with Chevrolet to help deliver a new method of engagement to a very important target market," said Boris Revsin, CEO of CampusLIVE. "Chevrolet understands that in order to drive a flurry of action and social media activity, a unique and fresh approach is needed. We are excited to be driving a campaign with such a strong and well-loved brand."
"Chevrolet is working with CampusLIVE because its highly engaged, enthusiastic audience mirrors the youthful, adventurous spirit of the Sonic," said Michael Albano, director, Chevrolet communications. "CampusLIVE's engaging platform is a great way to interact with potential Sonic drivers and fans who are always up for experiencing firsts in their lives."
ABOUT CAMPUSLIVE
CampusLIVE helps brands engage with college students through social actions – from games to contests to surveys. CampusLIVE provides unique advertising solutions with engaging content and guaranteed results to some of the world's leading companies including McDonald's, Anheuser-Busch, Dunkin' Donuts, Microsoft, and Ernst & Young. Founded by students for students, the Company is headquartered in Boston and has raised $3.1M in funding from Highland Capital and Charles River Ventures.
ABOUT CHEVROLET
Founded in 1911 in Detroit, Chevrolet is now one of the world's largest car brands, doing business in more than 140 countries and selling more than 4 million cars and trucks a year. Chevrolet provides customers with fuel-efficient vehicles that feature spirited performance, expressive design and high quality. More information on Chevrolet models can be found at http://www.chevrolet.com.