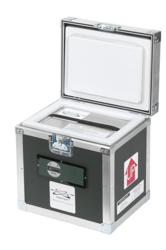 temperature monitoring and regulating solutions that simplify clients' cold chain management processes
Schaumburg, Illinois (PRWEB) June 05, 2012
Intelligent Thermal Solutions (ITS) global provider of environmentally friendly cold-chain solutions announced the debut of their new IntelliTherm 5-liter shipping container. Utilizing the same patented technology of their IntelliTherm 36 liter and 11 liter options, the 5 liter provides temperature assurance for temperature-sensitive pharmaceuticals and biologics for up to 120 hours in refrigerated, frozen and dry ice temperature ranges.
"The market recognized the value of our IntelliTherm shippers in our larger options and immediately saw applications in smaller cold chain logistic projects," said President and CEO, Richard Ellinger. "We took the patented technologies that our clients value and applied them at a smaller scale to create the 5 liter in refrigerated, frozen and dry ice temperature capabilities."
With the launch of the IntelliTherm 5 liter shippers, ITS further propagates their value proposition of helping clients save money & time and reduce their carbon footprint, with temperature monitoring and regulating solutions that simplify their cold chain management processes.
"All of our IntelliTherm shippers utilize a modular approach to their design. For example, a client can implement a fleet of 36-liter containers and utilize a mix of thermal regulating units in any of the three temperature ranges. This makes pack out a snap. Packers simply place their cargo in the payload and drop the temperature-charged thermal regulating unit onto the base of the shipper. Close the unit and it is ready for shipping," stated Ellinger.
About Intelligent Thermal Solutions
Headquartered in Schaumburg, Illinois, Intelligent Thermal Solutions LLC manufactures reusable cold chain solutions that meet the unique transportation needs of temperature-sensitive pharmaceuticals and biologics worldwide. ITS earned two 2011 Greener Package Awards for Environmental Impact and Innovator of the Year. For more information, please visit their website at http://www.IntelligentThermalSolutions.com.