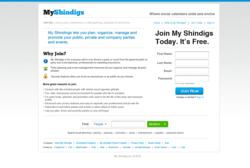 MyShindigs.com seems to be leading social media into the next generation with the creation of Shindig TV...
Boston, MA (PRWEB) June 05, 2012
In a continuous effort to bring its members a full, all-encompassing suite of online event planning, promotion, management and broadcast tools the recently launched social networking website MyShindigs.com has added additional, new innovative features including the debut of Shindig TV. The success of an event or party is measured in many different ways and variables such as social interaction, brand penetration, music, vibe, atmosphere, and buzz are some of the important contributing factors. What better way to allow event organizers and party planners to promote their upcoming events and parties than being given a tool to upload past memorable moments through rich video experience.
'As promised to our members we are beginning to evolve the MyShindigs website through rich media integration with the intent of helping our members to more effectively promote their events' say co-founders Matthew Tautt and Jason Andrews.
MyShindigs offers a very robust event organization, planning and promotional platform that is continuously evolving to meet the demands of its interesting client base; a mix of promoters, event planners, venue owners, photographers, entrepreneurs within the industry, and general users that all come together with the purpose of creating bigger and better executed parties and events. 'What better way to share the experience of a past or upcoming event than through an exciting video format? We feel that Shindig TV accomplishes just that.' notes Jason.
'We are socializing SAS (software as a service) in that we have amassed a social media platform that offers what other costly event planning software suites offer but in addition we have added a social networking layer so that industry professionals can leverage each other's talents and expertise with the objective of being able to take events to the next level while maximizing profits.' adds Matthew.
The events platform is offered free of charge as the focus is being placed on membership subscriptions and enriching user experience through the addition of relevant event planning, promotional and broadcast tools.
The one unique difference to the website is that it is not only attracting event industry professionals but also the general public who are interested in either throwing their own parties or following the best event organizers in their local cities and towns. There seems to be a groundswell of support for this new and innovative site that allows its member to attend exciting parties and events. New entrepreneurs logging onto MyShindigs have been taking advantage of the free platform to assist in the planning of their parties and events. The site also allows those just entering the space to foster business and personal relationships and to better network with peers.
For those not yet logged onto MyShindigs.com, the second generation of social media seems to have arrived. The latest news of the creation of Shindig TV is evidence of a more efficient and effective way for people to network both professionally and socially.
About MyShindigs
MyShindigs is a social networking platform that specializes in allowing members to plan, organize, manage and promote their public, private and company events and parties. MyShindigs allows users to search out, share, follow and join each other's events and parties of interest to expand their social calendar throughout their lives. For more information, visit http://www.myshindigs.com.