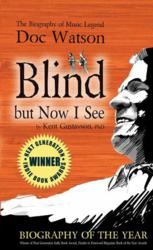 Doc Watson can play the guitar... just like water running.
- Bob Dylan
New York, NY (PRWEB) June 01, 2012
Doc Watson expert Dr. Kent Gustavson is the author of BLIND BUT NOW I SEE: THE BIOGRAPHY OF MUSIC LEGEND DOC WATSON. The new edition of this award-winning biography of guitarist and traditional bluegrass singer Arthel "Doc" Watson, released in March 2012 (Sumach-Red Books, New York), chronicles the life and times of the beloved musician. Watson died in North Carolina after abdominal surgery on May 29, 2012. A sample chapter from the book can be found at http://bit.ly/doc-sample-chapter.
Before his death at the age of 89, Doc Watson was the true voice of Appalachian music. After being discovered in 1960 by folklorist Ralph Rinzler, the blind guitarist graced thousands of American stages with his down-home wit, deep knowledge of traditional songs, and his blistering flatpicking guitar. Over 52 years in the music business, Doc influenced every musician with a pulse, from Bob Dylan to Jerry Garcia, and from Gillian Welch to Pete Seeger.
Dr. Kent Gustavson can answer any and all questions about every aspect of Doc Watson's life and music. A list of interview questions can be found at http://bit.ly/doc-questions.
QUOTES FROM THE BOOK
"I never heard an off night from Doc Watson – ever, ever, ever." – Taj Mahal
"When you listen to what Doc is doing on the guitar, it hits you right in the soul." – Warren Haynes
"When you hear Doc Watson singing Amazing Grace, something else enters the room." – Ben Harper
"Doc takes in the larger universe and makes it come out on the guitar." – Bill Frisell
"I recorded 'Strawberry Jam' with Doc at MerleFest. After we played the set, I said, 'Oh my God, that was as good as sex!'" – Michelle Shocked
"Doc is a force of nature. Without Doc, there would have been no anchor for the last 40 years to keep us remembering the simplicity of the old tunes." – Peter Rowan
"There isn't a musician anywhere who isn't saying 'My God, I'll never even get close to that.'" – Mike Marshall
"You can feel the joy in Doc's playing and hear it in his voice and the way he talks to the audience. You can just feel the joy." – Sam Bush
"Doc is a major link in the chain of American roots music." – David Grisman
"Doc has an unwavering authenticity in his playing, in his singing, and in his character." – Tommy Emmanuel
"We owe Doc Watson a lot for being such a musical genius, for breaking down barriers, and for giving us a direction to go in." – Jerry Douglas
"If the wind and rain could play guitar, they would sound a lot like Doc Watson" – Greg Brown
ABOUT KENT GUSTAVSON
Dr. Kent Gustavson is a musician, professor, and ghostwriter. He performs traditional music, and received his PhD from Stony Brook University in New York. He has interviewed hundreds of award-winning authors and musicians for his radio show Sound Authors, and his music has been featured on National Public Radio's All Songs Considered. He lives and works near Tulsa, Oklahoma.
ABOUT THE PUBLISHER
Sumach-Red Books is an imprint of Blooming Twig Books, an independent publisher based in Tulsa, Oklahoma and New York, NY. Blooming Twig specializes in "books that matter" of all varieties, from children's fiction to biography. http://www.bloomingtwig.com
PRAISE FOR THE BIOGRAPHY OF DOC WATSON
If you're a dedicated Doc Watson fan, I think you would find this book an interesting read. It does get into some darker areas of Doc's life, such as Merle's death, but it also is a celebration of the man through the eyes and ears of those who know him.
--Steve Carr, http://www.docsguitar.com
Hard to believe it's been 50 years since Ralph Rinzler first introduced guitarist Doc Watson to the larger world. It's a fitting anniversary for the first book-length biography on Doc to appear. It was long overdue. This is a valuable, anecdotal work anyone interested in Doc's music and life will enjoy reading.
--Bluegrass Unlimited
This is a highly informative, fascinating biography of the great Doc Watson. What a life. It's a page-turner that will keep you up past your bedtime. Don't miss it.
-- The Inland Northwest Bluegrass Association