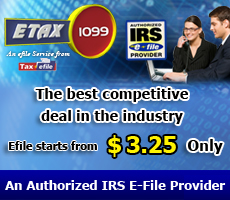 Visit Etax1099.com to start filing today!
(PRWEB) June 01, 2012
As a new month arrives, Etax1099 sees it important to notify all businesses that filing season for Form 1099 has come to an end! Those who were to file Form 1099-MISC should have completed the process by March 31st and now federal penalties have been assessed. However, it is not too late! Etax1099 is willing to continue e-filing for this particular tax to help businesses avoid additional penalties for their filing tardiness.
Form 1099-MISC is to be filed by all businesses that have paid any type of payments for miscellaneous services or goods. The form is specifically filed if a business makes payments for a total of $600 or more for services rendered by contractors, subcontractors, attorneys, accountants, directors, and others; rental payments for a total of $600 or more, other than rents paid to real estate brokers; payments of $600 or more for prizes and compensation that are not for services rendered, such as prizes for winning a contest on television or radio; payments of $600 or more for medical or health care services, income for crop insurance, and cash payments for purchases of fish; payments of at least $10 in royalties or payments to brokers in lieu of dividends or interest exempt from taxes; payments to certain members of a crew made by fishing boat operators; gross proceeds paid to attorneys; and sales of $5,000 or more of consumer goods to a buyer who is going to resell the goods in any place that does not constitute a permanent retail sales establishment.
Many businesses fall victim to federal penalties from the IRS because they are unaware of the wide range of services that should be filed through Form 1099 MISC. Penalties are assessed to any business that does not file the form by March 31st or apply for an extension. If a business submits Form 1099 within 30 days from the due date, the penalty is $30 per form. If a business files the form more than 30 days late but before August 1st, the penalty is $60 per form. The penalty increases to $100 for any form filed after August 1st or not filed at all.
These are quite hefty financial penalties and they increase by the month. Businesses who need to file Form 1099-MISC should not delay the process any further because Etax1099 is willing to help!