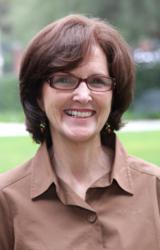 "I have always seen my work at John Tracy Clinic as service, not work. It is an honor to be allowed into someone's life," says Jill Muhs.
Los Angeles, CA (PRWEB) June 04, 2012
Jill Muhs, Vice President of programs of John Tracy Clinic, was named as one of THE Magazine's 50 Fabulous Women. Jill is recognized for her expertise in early childhood deaf education, changing the lives of thousands of children with hearing loss and her remarkable 27-year career at John Tracy Clinic.
Says Jill Muhs, "I have always seen my work at John Tracy Clinic as service, not work. It is an honor to be allowed into someone's life, especially at an unexpected turning point, and be allowed to partner them in an area they don't know until they have their own footing."
Jill has enjoyed a remarkable 27-year career at John Tracy Clinic. She has worked in and directed every program at JTC, starting in the preschool. After the preschool, she directed the Community Hearing Screening Program and Parent-Infant Services, a program that supports parents of newly identified hearing impaired children and helps them coordinate services both within the Clinic and in the community. Over the course of her career with the John Tracy Clinic, Jill has seen the evolution of technology benefit deaf children, as hearing aids evolved from large analog aids worn around the chest to tiny in-ear digital powerhouses. She has seen the advent of cochlear implants, and adapted our programs to serve children as young as one year old who have received this incredible technology.
Jill Muhs was born to be a teacher. As a little girl growing up in South Pasadena, Jill knew that she wanted to teach. She dreamed of having her own classroom, of teaching children to read and write, and of helping children achieve their dreams. What she couldn't know in her youth was that she would become not just a remarkable teacher, but a remarkable teacher of the deaf, one of the world's experts in early childhood deaf education, and an executive at John Tracy Clinic, the leading diagnostic and education center for children with hearing loss in the world. Jill is also a devoted wife, mother of two, tireless volunteer and unsung heroine. She has touched the lives of thousands in her 27-years at JTC. She embodies the spirit of another fabulous woman, Louise Tracy (wife of Hollywood legend Spencer Tracy), who founded JTC in 1943 after her infant son was diagnosed with hearing loss.
Gaston Kent, president and CEO of John Tracy Clinic says, "Being told that your child is deaf can be one of the most momentous experiences in a parent's life. Under Jill's leadership, however, John Tracy Clinic makes the diagnosis and following education a supportive and transformative experience. Parents of children with hearing loss consistently refer to Jill and JTC as their "lifeline." Jill is known at John Tracy Clinic as the ultimate professional with a big heart and a warm soul."
John Tracy Clinic was founded in 1943 by Louise and Spencer Tracy, whose son, John, was born deaf. Our mission is to provide parent-centered services to young children with hearing loss locally and globally offering hope, guidance and encouragement. JTC is the world's largest private provider of services to newborns and young children with—or at risk for—hearing loss. JTC is the only institution in Southern California to provide audiological, developmental and educational services for children with hearing loss in children from birth through age 5 and their parents. JTC has the leading pediatric audiologists on staff and offers hearing tests for young children. In addition, we offer information and guidance to parents in all 50 states and more than 60 countries through distance education. This program offers parents lessons on topics ranging from "Encouraging Language through Play" to "Understanding an Audiogram." JTC provides exclusively spoken-language programs so that hearing-impaired children become prepared for mainstream classrooms. Studies consistently show that when children receive hearing aids or cochlear implants and participate in early intervention programs, such as those offered by John Tracy Clinic, they can develop communication at the same rate as their hearing peers. Also, JTC offers an accredited master's and credential program in partnership with the University of San Diego to help meet the national demand for auditory/oral teachers of the deaf. JTC serves 25,000 families per year.
For more information, visit the website at http://www.jtc.org or contact Blythe Maling, Vice President of Development and Communications, John Tracy Clinic, 806 W. Adams Blvd., Los Angeles, CA 90007, (213) 748-5481, ext. 229 or bmaling(at)jtc(dot)org.