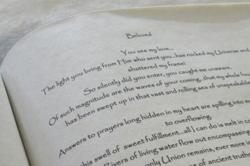 What seems to happen here can be utilized to transform our minds to timelessness
Wisconsin Dells, WI (PRWEB) June 02, 2012
With just over three months to go to the 10-day festival celebrating International Forgiveness Week and Weekend of Perfect Peace, from September 14 through 23, 2012, in Wisconsin Dells, WI, A Course In Miracles International has, with greater urgency, renewed its appeal for written accounts of personal experiences of forgiveness. Submissions can be made using the form on the following webpage of the event website: http://www.forgivenessweek.org/writing.php
Event Coordinator, Teacher of God and renowned author, Ray Comeau, Ph.D, who will facilitate Creative Writing Workshops during the festival, is sending out daily invitations through his blog, Facebook and various social networking websites to all those willing to share their forgiving experiences, to put them in writing and send them to him for inclusion in a special anthology.
Comeau writes in a recent blogpost, "The clock on the wall is slicing the day into seconds and minutes and hours,
"tick-tock, tick-tock.
"It is not so.
"I am as God created me before time was, now walking in this world, and after my time on earth is over.
"Yet, time does have a purpose; it can be used to help us escape time. What seems to happen here can be utilized to transform our minds to timelessness.
"Here is Jesus expressing this in Lesson 110, 'I am as God created me.
It is enough to let time be the means for all the world to learn escape from time, and every change that time appears to bring in passing by.'
"Letting go of time is an act of forgiveness.
"Please write about your experience of forgiving thoughts in 600 words, or less, and Submit Your Essay, using this link: http://www.forgivenessweek.org/writing.php"
International Forgiveness Week and the Weekend of Perfect Peace will be observed worldwide on September 14 – 23, 2012.
A Course In Miracles International will hold special celebration events at the Miracles Healing Center in Wisconsin Dells, WI, and in affiliate centers around the world.
For more information about all planned events, and how you can participate, visit http://www.forgivenessweek.org/events.php.
###