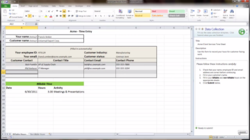 Anzo makes the previously hard - simple.

-William Hayes, Director of Decision Support at Biogen Idec
San Francisco, CA and Boston, MA (PRWEB) June 04, 2012
At the 2012 Semantic Technology & Business Conference today, Cambridge Semantics announced a new, free downloadable version of the company's Anzo Express software. Anzo Express allows business users to link together data stored in multiple spreadsheets enabling real-time collaboration right in Microsoft Excel. Anzo Express also provides a dynamic, business-friendly web-based analytic dashboard for real-time reporting on data in spreadsheets and relational databases. Companies including Merck, Johnson & Johnson, Staples and GroupM, are already using Anzo to solve their key data management challenges.
Cambridge Semantics will be presenting Anzo Express with a live demo at SemTech in San Francisco on June 5th. Visit http://semtechbizsf2012.semanticweb.com/ for the complete agenda.
Organizations are facing increasingly dynamic environments where business requirements change almost daily. Traditional databases lack the ability to quickly adapt to change and have driven business users to rely on Excel spreadsheets for key business operations—from supply chain management to compliance information management, competitive intelligence to budget reconciliation. IT departments have tried to replace spreadsheets with more governable services but have failed to do so because traditional technologies are not as flexible as spreadsheets.
Semantic Web technologies are significantly more flexible than traditional databases and can better adapt to changing requirements, making them uniquely suited to solving the spreadsheet data integration problem. With Anzo Express ordinary users can easily collaborate and report on data stored in Excel and relational databases, transforming disparate spreadsheet data into powerful business insights.
"Semantic Web technologies have been gaining momentum as businesses require greater flexibility. However there is still a steep and tedious learning curve for everyday users who need powerful tools and scalable applications," said Lee Feigenbaum, co-founder of Cambridge Semantics. "With Anzo Express businesses can get the best of both worlds. End users can continue to use Excel, only with significantly greater ability to share data between spreadsheets and departments, while IT, for the first time, gets the ability to govern, track, and report on data within those spreadsheets."
As the entry-level version of the full Anzo Enterprise software suite, Anzo Express focuses on addressing collaborative spreadsheet integration and web dashboards. This is the first time Anzo Express has been available as a free download, enabling much greater adoption for business users. From compliance reporting to supplier tracking, Anzo Express solves the Excel reporting and integration challenges that every organization faces.
In addition to showcasing Anzo Express Starter at the Semantic Technology & Business Conference, Cambridge Semantics' customer Staples will be presenting a use case of how the company uses Anzo to manage their complex enterprise service bus (ESB). Attendees can also visit the Cambridge Semantics booth (#101) and learn more about recent offerings such as Anzo Unstructured.
Featured Cambridge Semantics sessions at the 2012 Semantic Technology & Business Conference include:

About Cambridge Semantics
Cambridge Semantics is the leading provider of semantic data management software for the enterprise that is designed to bridge the gap between business processes and data-driven business intelligence. Enterprises face an increasing need to quickly combine diverse data that crosses organizational boundaries in order to make better decisions and improve process efficiencies every day. Our Anzo software lets business users search for, virtualize, analyze, act on, and make decisions with any internal or external, structured or unstructured data. Based on the revolutionary flexibility of Semantic Web technologies, Anzo provides unprecedented ease-of-use, speed of implementation, and operational business process integration for just about any formal or informal business activity.
To learn more about Cambridge Semantics visit http://www.cambridgesemantics.com and check out our blog "Enterprise Semantics" or follow us on Twitter @CamSemantics.