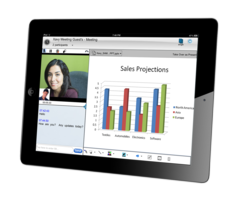 Xavy Meeting client allows guest users to join a Lync or Office 365 Online meeting anonymously on mobile devices
RICHARDSON, Texas (PRWEB) June 04, 2012
Damaka®, a technology pioneer in Mobile Unified Communications and Collaboration (UCC), introduces Xavy Meeting, the only native mobile client allowing users to join a Lync or Office 365 Online meeting anonymously. With Xavy Meeting you do not need to have a Lync or Office365 account.
Xavy Meeting offers the full range of meeting functionalities like IM, Audio, Video, Desktop/Program Sharing, Whiteboarding, Powerpoint sharing with complete Lobby management. With Xavy Meeting you can now join online meetings by syncing your mobile outlook to fetch your meetings and join via single touch.
Lync or Office 365 legacy (laptop) users can now invite third parties and guests from outside their own company. Your clients and customers can now communicate and collaborate in your online meetings from the comfort of their own iPads and tablets. This is the perfect way to collaborate with customers who do not have Lync accounts of their own.
Xavy Meeting is the newest addition to the Xavy family of Products that are intended to work with OCS 2007 R2, Lync, and Office365.
As part of its Enterprise Mobile Video and Mobile Collaboration Strategy, Damaka continues to bring advanced communication and collaboration solutions that enable today's mobile workforce to be very productive. Damaka's technology is available on Android™, iPhone®, iPad®, Symbian®, Blackberry™, and Windows Mobile® platforms.
About damaka, Inc.
Damaka (http://www.damaka.com) is an innovator in mobile unified communication and collaboration (UCC) solutions. The company is changing the landscape of mobile UCC by providing secure, real-time mobile video calling and mobile collaboration solutions on all major smartphones, tablets and PC/MAC platforms, enabling collaboration on any device, any network, anytime and anywhere. Damaka's patented managed peer-to-peer SIP based software solutions feature Sweeping® technology, allowing users to seamlessly transfer in progress collaboration sessions to and from various devices, including laptops, tablets and smartphones. Damaka was founded in 2004 and is headquartered in Richardson, Texas. For more information on Damaka's Xavy solution, please visit https://xavy.damaka.com/xavy.
Contact: Mrinal Rao
(972) 850-3002
xavy(dot)support(at)damaka(dot)net