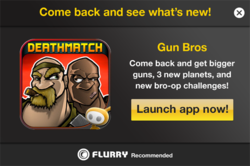 "Over the last three months, we've seen a surge in demand as companies focus more on user quality, seeking out solutions that better engage audiences."
San Francisco, CA (PRWEB) June 04, 2012
Flurry, the leading app advertising and measurement platform, today announced that its mobile app user acquisition network, Flurry AppCircle, set new traffic records during May 2012. The network generated 670 million sessions for iOS and Android apps using its paid service. With Facebook organically driving 1.1 billion sessions to mobile apps during April 2012, Flurry AppCircle is now driving 60% the level of traffic on mobile apps as Facebook.
"Since launching in December 2010, Flurry AppCircle has enjoyed strong, steady growth," said Simon Khalaf, Flurry's President and CEO. "Over the last three months, we've seen a surge in demand as companies focus more on user quality, seeking out solutions that better engage audiences."
Flurry AppCircle is designed for experienced app marketers who require segmenting, targeting and consumer re-engagement solutions. By first using Flurry Analytics, a free service, marketers can segment their application audiences by demographics, usage metrics, customer lifetime value, and more. After breaking down audiences into key groups, marketers can use Flurry AppCircle to focus on engaging their most valuable segments with targeted campaigns.
Additionally, Flurry AppCircle is the only solution that offers Re-Engagement campaigns, which enable marketers to reach high-value lapsed users with "win-back" style campaigns. Glu Mobile, a leading game maker, recently achieved a 230% return on its investment for ad spending using Flurry AppCircle Re-Engagement campaigns. Using a combination of targeted new user acquisition along with re-engagement campaigns AppCircle provides marketers a way to grow their app audience with the most engaged users, quickly and effectively.
"Flurry advises app marketers to avoid services that promote short-term gimmicks like App Store rank manipulation," said Colin Morris, Flurry director of product management. "Instead, they should seek out solutions, like AppCircle, that are designed from the ground up to leverage segmentation and targeting data to build the highest quality app audience possible."
"The traffic we acquired through Flurry AppCircle was even better than traffic organically acquired during periods when Scoople was featured in the App Store," said Alain Mayer, president and chief executive of Dygest, makers of the Scoople app. "Using AppCircle's targeting, 70% of the users we acquire are still retained after 60 days, which is a fantastic result."
About Flurry AppCircle
Flurry AppCircle is a leading mobile app user acquisition network. Powered by the world's largest cross-platform app dataset, AppCircle delivers high quality users to apps by using segmentation and targeting, a unique recommendation engine and engaging app trailers. AppCircle can also re-engage users, winning back an app's most valuable users once they have stopped using an app.
About Flurry
Flurry, a mobile app measurement and advertising platform, is now used by more than 70,000 companies to thrive in the new app economy. Flurry tracks over 36 billion anonymous, aggregated end-user application sessions each month and drives over 670 million user sessions per month. Flurry is venture-backed by Draper Fisher Jurvetson, InterWest Partners, Union Square Ventures, Menlo Ventures and First Round Capital. The company has offices in San Francisco, New York and London.