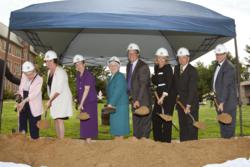 Chicopee, MA (PRWEB) June 11, 2012
Elms College broke ground on the Center for Natural and Health Sciences during a ceremony on campus Saturday, June 2, 2012. The ceremony was attended by Michael Bissonnette, J.D. mayor, City of Chicopee; Monsignor Christopher D. Connelly, J.C.L., vicar general of the Diocese of Springfield; and Maxyne Schneider, SSJ, Ph.D., president of the Sisters of St. Joseph of Springfield. Participants in the ceremonial moving of dirt included Mary Reap, IHM, Ph.D., Elms College president; Linda Mansfield, Elms College Board of Trustees chair, Sr. Maxyne Schneider, Cynthia and William Lyons III, campaign steering committee co-chairs; John Flynn, trustee emeritus; Sr. Mary Lou Wright, '57, SSJ, Ph.D., professor of biology; Michael Bissonnette; and Kevin Chroback, AIA, project architect.
The Center for Natural and Health Sciences will be a five-story, 22,000-square-foot facility designed to complement the traditional architecture of adjacent buildings. It will contain state-of-the-art classrooms and laboratories. Eight laboratories, as well as research, clinical, and classroom space for existing programs in biology, chemistry, and nursing, are planned. A simulation skills laboratory will be utilized by a number of academic disciplines, bringing our health professions together and fostering an environment where students can learn in interdisciplinary teams.
Elms College currently has undergraduate programs in biology, chemistry, computer information technology, mathematics, nursing, healthcare management, social work, communication sciences and disorders, and speech language pathology assistant. These programs will be the most directly impacted by the project.
The new facility will enable the college to better prepare its students for future laboratory-based employment. The facility will further expand students' participation in interdisciplinary opportunities through their experiences in research, the classroom, and in operating modern analytical instrumentation. With a versatile 60-person lecture hall and classroom, and the possible integration of a research lab in the central space, this multipurpose environment will facilitate the vision for teaching in the round while allowing students to break into smaller, cooperative work groups.
Elms College received a $12.35 million New Markets Tax Credit allocation from Massachusetts Housing Investment Corporation (MHIC) for the Center for Natural and Health Sciences. Approved by the MHIC Board of Directors on May 15, 2012, the allocation will result in a total New Markets Tax Credit of $4.8 million. These credits will be purchased by outside investors resulting in a net $3.2 million equity investment in the new building. The New Markets Tax Credit (NMTC) Program was established by Congress in 2000 to spur new or increased investments into operating businesses and real estate projects located in low-income communities. The NMTC Program attracts investment capital to low-income communities by permitting individual and corporate investors to receive a tax credit against their federal income tax return in exchange for making equity investments in specialized financial institutions called community development entities (CDEs). The credit totals 39 percent of the original investment amount and is claimed over a period of seven years (five percent for each of the first three years, and six percent for each of the remaining four years). Bond funding for the project is to be underwritten by a consortium of local financial institutions led by Chicopee Savings Bank.
The City of Chicopee was instrumental in Elms College receiving NMTC funding from MHIC. The city, led by the mayor and city council, applied for Economic Opportunity Area designation of the Elms College campus. That designation was approved by the state on March 27, 2012 and allowed for the college to qualify for NMTC funding consideration.
The construction and operations of the completed facility will significantly impact the local economy. One hundred seventy-two temporary jobs will be created during the next 18 months, and 24 permanent jobs will be added to the college's payroll in the next five years.
Elms College is a co-educational, Catholic college offering a liberal arts curriculum that gives students multiple perspectives on life. Founded in 1928 by the Sisters of St. Joseph, Elms College has a tradition of educating reflective, principled, and creative learners, who are rooted in faith, educated in mind, compassionate in heart, responsive to civic and social obligations, and capable of adjusting to change without compromising principle.