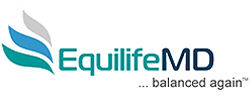 Medical Director Nancy Netter MD says "100% natural Pellet therapy is the most effective way to reduce common aging symptoms, like Hot flashes, joint pain weight gain and loss of healthy sex drive in men and women."
Charlotte, NC (PRWEB) June 05, 2012
EquilifeMD, LLC is excited to announce the grand opening of a new Hormone Replacement Therapy clinic in Charlotte, NC. Alongside their current clinic location in Greenville, SC EquilifeMD operates under the medical expertise and supervision of Dr. Nancy Netter, MD. The aim of the clinic's Hormone Replacement Therapy services is to deliver natural bio-identical hormones for the restoration of health and vitality in mature patients.
Hormone Replacement Therapy, or HRT, is a hot topic in both the media and the medical community. Celebrities like Oprah and Dr. Phil have endorsed natural bio-identical hormone replacement therapy as a safe, natural way to fight signs of aging, especially in senior patients who are at risk of declining health and vitality with age. The treatment can effectively address conditions like stress, fatigue, weight gain, menopausal symptoms, and low sex drive.
EquilifeMD, LLC practices natural pellet therapy, the most effective and proven method for delivering natural bio-identical hormones to patients. The formulas for these pellets are compounded individually based on an introductory test of each patient's hormonal deficiencies, ensuring that individual patients receive custom care. Once the most effective treatment for a patient's unique hormonal needs is created, the HRT program takes around only ten minutes about every 90 days, with no need for a daily regimen.
EquilifeMD, LLC's state of the art clinics strive to provide a wide variety of anti-aging products, with programs specializing in Natural Hormone Replacement Therapy, weight loss, and other wellness techniques to improve health, happiness, and fitness in their clients. They are committed to using 100% natural ingredients in their products, which keeps them safe and risk-free. Wellness patients rave about the results of EquilifeMD Natural Hormone Replacement Therapy, and the clinic encourages potential users to investigate the treatment and learn about its effectiveness for themselves.
About the company:
EquilifeMD, LLC is very excited to announce their new state of the art Bio-identical Hormone Replacement Therapy (HRT)Clinic in the Charlotte suburb of Ft Mill, SC. Operated under the medical supervision of Dr. Nancy Netter MD and with the EquilifeMD clinic in Greenville, SC. Founded in 2011 by Kris Oakes, Ondrej Sliva, Dr. Nancy Netter MD, and a group of concerned investors, EquilifeMD provides their communities with the latest in anti-again techniques. EquilifeMD HRT specializes in 100% Natural Bio-identical Hormone Replacement Therapy, Weight loss, and Wellness products. EquilifeMD HRT clinics are the most advanced and fastest growing centers of their kind in the southeast. Multiple offices are located in Greenville/Spartanburg, SC and in the Charlotte/Ft. Mill, SC markets. For more information visit their website at http://www.Equilifemd.com.