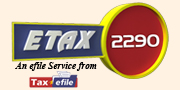 Visit www.etax2290.com to start e-filing your Form 2290 today!
Herndon, VA (PRWEB) June 04, 2012
July being just a few weeks away emphasizes the need for truck owners and operators to prepare for the upcoming heavy vehicle use tax, or Form 2290, filing season. The heavy vehicle use tax is one of the more important financial obligations that truck owners and operators have to bear responsibility for because the HVUT funds roadway improvements.
The revenue attained through the tax is funneled into the Highway Trust Fund, which finances a broad spectrum of transportation programs including: highway infrastructure, highway improvements, highway & bridge maintenance, highway law enforcement, safety programs, congestion relief projects, administrative cost and local highway/congestion/safety –related programs. Since the tax filing season is scheduled to be on track this year, Etax2290 has a few suggestions for owner/operators to help them better prepare for the tax period.
E-Filing is the most efficient means of filing Form 2290, but there are a few necessities that can be gathered now to ease the process. A truck driver or operator will need several specifications in order to have the ability to file for Form 2290, which include: employer identification number, vehicle identification number, and taxable gross weight. The employer identification number is utilized to identify the company or business that owns and operates the truck, also known as the federal tax identification number; it really is the commercial equal of the social security number, but for companies. The vehicle identification number is a distinctive serial number employed to identify a certain car, which one intends to pay taxes for. Finally, taxable gross weight decides the tax amount the owner must pay and can be decided by adding the actual unloaded weight of the vehicle entirely outfitted for service; the actual unloaded weight of just about any add-on completely outfitted for service; and the weight of the highest load carried on the auto or truck usually employed in combination using the vehicle.
As noted before, the heavy vehicle use tax is one of the principal truck taxes used to better road travel for not only truck drivers, but for all. Penalties and fees are assessed to those owner/operators who delay the submittal of their Form 2290. Therefore,Etax2290 suggests that taxpayers get started on their filing arrangements now so that penalties and fees can be avoided.