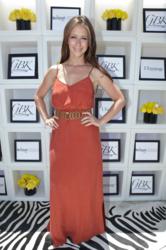 Los Angeles, CA (PRWEB) June 04, 2012
This year, GBK - the luxury lifestyle gift lounge and special events company – hosted a luxury gift lounge in honor of the MTV Movie Awards Nominees and Presenters on June 1st and 2nd at the L'Ermitage Hotel in Beverly Hills. GBK, the recipient of multiple BizBash's Award for "Best Gift Bag," offered its exclusive list of invited celebrities, VIPs, and media an opportunity to explore new products and enjoy a luxury environment. Partnered with (RED)™ - a non-profit organization created by Bono and Bobby Shriver to unite iconic companies and consumer power in the fight against AIDS in Africa, the lounge also allowed guests a chance to learn about this great cause and get involved.
Both days of the gift suite were met with beautiful sunny weather and a gorgeous view of the Hollywood skyline. Bright flowers, fresh décor and upbeat music made the ambiance radiate with excitement. This year's lounge was styled with the sleek and modern line of event furniture from Illuminated Industries, a leader in the illuminated furniture hire market.
GBK is know for their stylish luxury environments filled with today's newest products, and this year's lounge certainly did not disappoint. Guests were amazed by luxury sponsor Cubify - an interactive 3D printing experience where everyday products like designer shoes, iphone cases, gadgets, and jewelry come to life as pieces are printed on Cube 3D printers. One guest was overheard saying ""I can not wrap my head around this thing! It's a shoe! Crazy!" Guests received custom-designed, exclusive Fresh Fiber iphone cases and Freedom of Creation ipod nano bracelets with an opportunity to receive an @home 3D Cube printer!
Fashion was another great theme to the event, and guests explored the many different fashion sponsors showcasing their latest product lines and handmade accessories including: hand-crafted, unique, elegant leather cuffs by Ruby Roxanne Designs; Sprout Watches / Armitron Watches; Cartography – gifting one of a kind, found-object design necklaces composed entirely of antique charms gathered from flea markets, vintage shops and estate sales the world over; scarves by Robdechi, Halfbreed Clothing Co.; a lifestyle brand for people of Multi-Ethnic backgrounds and supporters of interracial relationships, will be gifting Tees, Tanks and Sweatshirts; shoes from Plomo; a collection of artisan jewelry, stationery, candles, fine art photography, spa and bath products from The Artisan Group; Lotus Premium Denim; Kent Denim; Negris LeBrum - branding themselves with Black Street Technology Corp touch screen watch phone "I SPY"; and Emys Clothing.
Other great gifts include celebrity-favorite RevitaLash ADVANCED -with RevitaLash® Advanced eyelash conditioner you'll be seeing beautiful, youthful looking lashes in record time. Eyelash conditioner that lengthens and thickens eyelashes, Hair by RevitaLash and RevitaLash Mascara and Perfect Primer; Keratin Complex – showcasing their at-home product line including a full-range of Keratin-infused styling products and tools; imPRESS Press on Manicure by Broadway Nails; MGA Entertainment, a consumer entertainment products company, showcasing their Bratz True Hope bald dolls and gifting their line of Bratzillas dolls; Jada Toys, Inc. gifting their Cutie Pops; delicious dips and spreads from America's top-selling hummus, Sabra; Toy State; and Caribbean Living Magazine, who gifted celebrities with 5 all inclusive nights at the new Hard Rock resort in Puerto Vallarta.
Before guests left for the day, they sampled delicious food provided by The Taco Man and an array of fine tequila from AsomBroso Tequila who was serving up their famous AsomCaddy Margaritas.
ABOUT GBK:
GBK, formerly GBK Productions, is a luxury lifestyle gifting and special events company, specializing in entertainment marketing integration. Formed in 2000 by Gavin Keilly, the company's Founder and CEO, GBK consists of five divisions: GBK Celebrity Gifting, GBK Special Events, GBK Weddings, GBK Charitable Consulting and GBK Marketing/Public Relations. Widely known in the entertainment industry for bringing that little extra something into the Gifting Lounge environment, GBK offers its clients a full range of marketing services. For more information on Gavin B. Keilly (CEO), Carla Domen (VP) or GBK, please go to: gbkproductions.com.