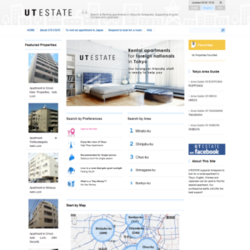 Tokyo (PRWEB) June 06, 2012
Morris Japan Inc. announced its new search portal site at UTESTATE.com(http://www.utestate.com/en), specially designed for people looking for apartments to rent in Japan. The site offers rental information in several languages, including English, Chinese, and Japanese. Daily updates are available in English and Chinese, listing over one hundred rental opportunities in the Tokyo area, including Minato-ku, Shibuya-ku, Shinagawa-ku, Chiyoda-ku and Chuou-ku.
"We are simplifying the Japanese real estate market and making it more convenient and transparent," stated Yoshimori Ito, CEO at Morris Japan Inc. "Our goal is to make things much easier for foreigners to relocate here in the greater Tokyo area."
Up until now, Japanese real estate information has been generally unavailable because of antiquated customs and poor communication. It was nearly impossible for foreigners to find current housing information.
At UTESTATE.com, rental housing information coming on the market is translated automatically into the subscriber's native language and sent anywhere in the world within hours. People planning a long stay in the Tokyo area can make better housing decisions by seeing available properties online, thereby greatly reducing the chance of making major mistakes.
Rental and agency fees are fully disclosed up front with all rental properties. This lets renters avoid surprises when they arrive on the property.
For further information, visit UTestate.com. At "UTESTATE" our aim is for a service that takes the hard-to-understand Japanese real estate service and offers more convenience and better contract terms through an easy-to-understand and highly transparent provision of information. Morris Japan Inc.