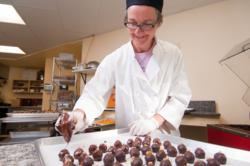 With all the great craft beers out there, you can get some amazing flavors that work beautifully together.
(PRWEB) June 07, 2012
Bacon, beer and Scotch all sound like they might appeal to Dads in one form or another on Father's Day, but pair them with chocolate and you've got a sure-fire winner, says Ecole Chocolat graduate Gail Ambrosius, whose chocolate shop under the same name has been featured in Martha Stewart Living, Bon Appetit, Food Network Magazine and the Today Show.
"This Fathers Day, we'll be promoting our Beerific Beer Pairing Box," says Ambrosius, who grew up as one of 10 children on a Wisconsin dairy farm, and trained and worked as a cartographer with the state before pursuing her lifelong dream of opening her own chocolate shop, Gail Ambrosius Chocolatier, in Madison, WI in 2004.
When she was first approached with the idea of pairing beer and chocolate in 2005, Ambrosius says she thought "it was a crazy idea," but it soon turned into an "amazing discovery" once she began pairing the craft brews with the contrasting or complimentary flavors in her chocolates, including lemongrass with ginger, cinnamon/cayenne, shitake (yes, the mushroom), and caramel with sea salt.
"Everyone thinks of wine with chocolate, but with all the great craft beers out there, you can get some amazing flavors that work beautifully together," she says.
"I talk about three specific local brewers and pair my chocolates with their beers, but there is a menu inside the box that talks about styles of beers so if you don't have these beers available, you can look for a specific style and do your own tasting," says Ambrosius.
Other chocolate shops are doing similar Father's Day promotions, including Chicago-based Vosges Haut Chocolat which is offering a Bacon & Chocolate Gift box that includes dark and milk bacon chocolate bars, bacon caramel toffee and bacon chocolate chip pancake mix. As well, Vosges Mash Bill Truffle Collection features bourbon, stout, scotch and rye whiskey truffles, and a smoke and stout chocolate bar with chocolate stout, smoked salt, caramel and dark chocolate.
Elsewhere, the "Spirits Truffle Collection" is the Father's Day special featuring cognac, port and whiskey-infused dark chocolate ganaches; it's available at Moonstruck Chocolate Co. in Portland, Ore.
According to history.com, the governor of Washington state proclaimed the first "Father's Day" in the U.S. on July 19, 1910. But it wasn't until 1972, 58 years after U.S. President Woodrow Wilson made Mother's Day official, that the day became a nationwide holiday in the United States, a fact attributed to people being less sentimental about their fathers than their mothers. U.S. President Richard Nixon signed a proclamation making Father's Day a federal holiday in 1972. Today, economists estimate that Americans spend more than $1 billion each year on Father's Day gifts. This year, Father's Day falls on June 17.
Founded in 2003, Ecole Chocolat Professional School of Chocolate Arts offers a portfolio of programs for chocolate making – mastering techniques while gaining the expertise and business knowledge needed to become a professional chocolatier or chocolate maker. Ecole Chocolat's founder Pam Williams is the recipient of the Award of Excellence in Service to the Industry from the Fine Chocolate Industry Association. See our website: http://www.ecolechocolat.com.