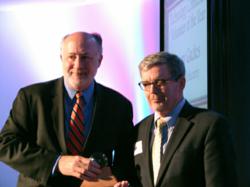 King of Prussia, PA (PRWEB) June 06, 2012
The Arts & Business Council of Greater Philadelphia presented Henry Guckes, Senior Consultant – Allied InfoSecurity, with the Technology Connectors Volunteer of the Year Award during their 2012 Awards Celebration in Philadelphia on May 30th. This award, sponsored by Comcast/NBC 10, was presented by Bill Black, Director, Community Investments, Vice President, The Comcast Foundation.
"Hank is the ultimate professional and an outstanding business contributor at Allied InfoSecurity," said Al Teufel, President and CEO, "and we are all very proud of his community contributions."
The Arts & Business Council's awards recognize outstanding leadership, innovation, volunteerism, and partnerships in the support and nurturing of the arts and cultural sector of the greater Philadelphia region. Last week's event marked the 27th year for these presentations.
About Allied InfoSecurity
Established in 2006, Allied InfoSecurity is an independent company focused on security and staffed by certified security professionals. As a consulting and outsourcing provider, it helps businesses to improve and manage information security programs, mitigate risk, and respond to regulatory and marketplace demands more quickly and effectively than most companies could do on their own.
Allied InfoSecurity offers a full range of information security capabilities and services that address business processes, technology, and the human element of security. Just as important, its partnership approach to delivering services provides easy, flexible access to the full breadth of its expertise.
For more information:
Contact: Bernard C. Stasak
Allied InfoSecurity, Inc., 1009 West 9th Avenue, Suite B, King of Prussia, PA 19406
Phone: 484.362.0930 Ext. 7114
FAX: 484.342.1005
Email: Bernie(dot)Stasak(at)alliedinfosecurity(dot)com
Company web site: http://www.alliedinfosecurity.com