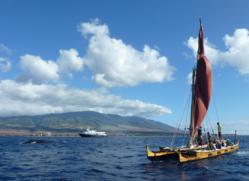 The travel credit is an incentive for new or returning guests to try our style of un-cruising adventures in Mexico or Hawaii.
Seattle, WA (PRWEB) June 04, 2012
Advance planning for a winter escape to warmer climes pays off for travelers booking an un-cruise adventure with American Safari Cruises. The line is offering travel credits of $500 per couple on its yacht in the Hawaiian Islands or $300 per couple in Mexico's Sea of Cortés aboard the newest addition to the fleet, the Safari Endeavour.
The 86-guest Safari Endeavour will spend its first winter exploring wildlife rich Sea of Cortés on weeklong Baja's Bounty expeditions roundtrip La Paz, Baja, Mexico. Transfers are included from either Los Cabos or La Paz airports. Highlights include snorkeling with sea lions, water sports activities, and viewing dolphins and whales. Guests making a new reservation by September 30, 2012 receive a $300 travel credit per couple.
The 36-guest Safari Explorer embarks on its second season of Hawaiian Islands cruises sailing seven-night inclusive Hawaiian Seascapes adventures between Hawaii, the Big Island and Lana'i with two days of activities on Moloka'i. Flexible yacht itineraries focus on the leeward side of the eastern-most Hawaiian Islands. A $500 travel credit per couple is offered on Hawaii sailings. Both travel credit offers are for new bookings made by September 30, 2012 for travel November 2012- April 2013.
"Over the past two years, we've significantly increased opportunities for warm weather cruising during the winter," said Tim Jacox, executive vice president of sales and marketing. "The travel credit is an incentive for new or returning guests to try our style of un-cruising adventures in Mexico or Hawaii."
In the Hawaiian Islands and the Sea of Cortés, guests can be as active as they like and activities include hiking, kayaking, paddle boarding, snorkeling and skiff excursions. Expert naturalists provide interpretation on guided excursions ashore and at sea. The unstructured itinerary allows time for viewing wildlife such as whales and dolphins.
Cruise fares start at $4,995 in Hawaii and $2,995 in the Sea of Cortés based on double occupancy. The inclusive cruise includes all from-the-yacht activities and equipment; transfers; exquisite meals; fine wine, premium spirits and microbrews; and all port charges, taxes and fees. An all-American crew has a guest-crew ratio of about 2 to 1. Yachts can be booked as a private charter or by individual stateroom. To book a yachting adventure or to request additional information, contact your travel agent or American Safari Cruises at 888-862-8881 or email sales@innerseadiscoveries.com.
Editor's note: Photos available in the image gallery or through Sarah Scoltock at sarahs@InnerSeaDiscoveries.com.
About American Safari Cruises
A division of InnerSea Discoveries, Seattle-based American Safari Cruises pioneered yacht cruising in Alaska in 1997 and since has expanded into Mexico's Baja, Columbia & Snake Rivers, Hawaiian Islands, and Washington & British Columbia. The company's second brand, InnerSea Discoveries, has three expedition ships and began sailing moderately priced adventure cruises in Alaska in 2011. InnerSea Discoveries and American Safari Cruises as a company is a member of Trusted Adventures, dedicated to the highest standards of small-group travel and to giving back to the places visited. For more information call 888-862-8881. Connect with American Safari Cruises on Facebook and Twitter.