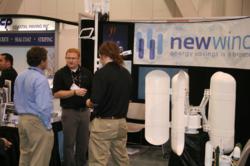 "When you think green, you don't normally think shopping centers, but that time is changing as the culture changes to people wanting more Earth-friendly solutions that are affordable and reliable."
Nashville, TN (PRWEB) June 05, 2012
John Phelan, president of JT Retail Leasing, knows the high-costs of utilities and how it is affecting shopping centers. "It is a significant cost," he said, adding tenants are responsible for not only the electricity of their own stores, but also for the overall bill at a mall.
He said he would highly recommend a company like New Wind, LLC, a company that specializes in green technologies including wind, solar, and off-grid parking lot lighting, to be part of a mall's plan to lower costs and also set a good environmental example for others.
Incorporating "green energy," he said, is, "good for public relations and is good for helping bottom-line savings."
May 21 – 23, Stuart Wiston, president of New Wind, LLC, a second generation member of the International Council of Shopping Center's (ICSC) and a 20-year-plus member himself, and members of the company's staff, attended the ICSC Global Retail Real Estate Convention (RECON) at the Las Vegas Convention Center – the largest gathering of its type in the country.
"Heating and cooling a shopping center or mall, as well as the electric bill for outdoor lighting, can run beyond tens-of-thousands of dollars per month, depending on mall size and utility rates for the area. A hazy economic forecast, a retail slowdown, and rising utility costs have tenants, shopping mall owners and center managers racing to lower overhead, " Wiston said.
Matt Pridemore, New Wind's director of sales, west, said not only did he walk away from the convention with new insight as to what it takes to build large-scale retail projects, but felt New Wind's presence left a mark on those in the retail industry by helping provide solutions to lower energy costs.
"Anyone who had anything to do with shopping centers was at the convention," he said.
"People in the industry had been looking for these solutions, but some didn't even know they existed," Pridemore said. "It was an opportunity to learn what they needed and to educate on our solutions and how they could save money."
Of much interest, he said, was New Wind's Firefly. "It is an off-grid wind and solar LED parking lot lighting system."
"Landlords loved it because it's a totally plug-and play system", Pridemore said, "There is no hassle or expense of trenching and laying conduit in parking areas. They are a self-sufficient lighting solution."
"There was also excitement about the Apperisity One, a completely portable and towable wind/solar and LED emergency lighting and power-on-demand (ELPod) system that does not require any fuel to operate."
The ELPod can be pulled by most vehicles and is targeted towards emergency electricity and lighting. "When disaster strikes, generators are only effective if there is fuel available," said Wiston. In addition to emergency planning, the unit is also targeted for locations that need instant and diesel-free power such as night construction, construction areas, fairs, and festivals. It is hooked up to a console that is programmed to turn the unit on when lighting is necessary. The mobile unit is equipped to supply 120 AC volts.
New Wind also had the opportunity to introduce its Total Telecom Solution (TTS), a wind and solar hybrid system with large-capacity batteries that can help run remote telecommunication towers cutting generator fuel in half.
Pridemore said, "I talked to clients from all around the world including; India, Chile, Argentina, Australia, Mexico, Puerto Rico, Japan, Hawaii, the Virgin Islands, and all around the United States." Some were from municipalities that were interested in cutting their own budgets and making the step toward renewable energy.
"We also had those who we talked to that were interested in our products for their own personal use, such as at vacation homes where renewable energy would help them lower the cost of high electric bills, especially in areas overseas."
"New Wind's booth," Pridemore said, "saw great traffic. At times we had people waiting three or four deep to get information from us."
Wiston said it was the company's greatest desire to help commercial endeavors thrive by offering sustainable and affordable energy solutions. "When you think green, you don't normally think shopping centers, but that time is changing as the culture changes to people wanting more Earth-friendly solutions that are affordable and reliable."
New Wind's wind/solar/LED and energy storage technologies are geared to provide an affordable solution to today's energy needs for residents, businesses, municipalities and other government agencies. Harnessing the power of the wind and solar through state-of-the-art technology now makes it affordable, environmentally friendly, and gives owners a high rate of investment not only by energy savings, but through local, federal, and state financial incentives, and helps those interested in becoming LEED certified.
For more information on how to become a New Wind dealer or for information on its line of products, contact (615) 730-5492, or visit them on the web at http://www.newwind.us.