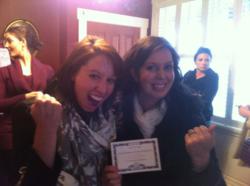 PartyPOP.com features over 2 million highly accomplished and professional companies in the event planning industry.
(PRWEB) June 04, 2012
PartyPOP.com recently announced free wedding invitations and an RSVP website for any engaged couple in the United States, Canada and the United Kingdom. The company has re-purposed their 2012 marketing budget in hopes of building brand awareness and loyalty. According to reports from within the Southern California based company, it's working.
PartyPOP.com features over 2 million highly accomplished and professional companies in the event planning industry. One of these companies, Music by Mommies Inc., serves the tri-state area.
Music by Mommies Inc., a company formed by caring mothers, produces lively music designed to guide children through their daily routines like brushing teeth, getting dressed and cleaning up. By creating motivating songs for everyday living, Music by Mommies hopes to brighten the lives of parents and children. The musical-mom duo performs at fairs, festivals, schools and libraries throughout the tri-state area. They play original songs, classics and popular music and encourage audience participation. Their music can be purchased on the internet on sites like Amazon, CD Baby and iTunes.
Michele Purcell, keyboardist, singer and songwriter, worked in the music industry for a large record company and has performed solo and in bands for many years. Michele has two young boys on the autistic spectrum and she and her husband often use music to motivate them to perform their everyday activities. She thought that if music motivated her sons, it would do so for other children as well. She met Barbara after placing an ad for a lyricist on the internet, and they formed a partnership and a friendship.
Barbara Fine Buxbaum is a published writer and lyricist who holds a masters degree in Business Administration from the University of Chicago. She is the mother of an active little boy and girl and believes that music is a useful tool in guiding her own children each day. She hopes that the songs she and Michele create will lighten the lives of other children and the people who care for them. More information can be found online at http://www.partypop.com/v/4380946
About PartyPOP.com : the largest party, wedding and event planning online network:
Before the Internet era, the professionals at PartyPOP.com were successful hands-on party planners and special event producers. For more than a decade PartyPOP has translated 30 years of party planning experience onto the Internet. Millions of vendors are listed on the network consisting of 60+ websites and tens of millions of customers have used the network to plan their parties, weddings and events. PartyPOP.com also provides party and event related tips, themes and ideas, as well as a free full wedding planning software called Seating Arrangement.
About Free Printed Invitations by PartyPOP.com:
PartyPOP provides every bride and groom across the USA, Canada and the U.K. with free beautifully designed wedding invitations, printed on 80lbs card stock paper with matching envelopes and wedding website. Even door to door shipping is included at no cost. There are no hidden fees, no obligations to buy and no strings attached!