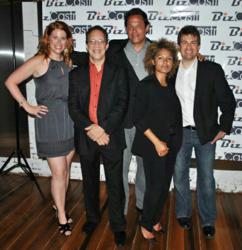 This is a great opportunity for a small business to have a voice...
New York, New York (PRWEB) June 06, 2012
Madison Avenue's newest online start up, BizCastr.tv officially launches today, focusing on creating, developing and broadcasting reality web series about dynamic business and the people who work there. Bizcastr.tv also provides the opportunity for businesses to have a reality show of their own to be broadcasted on the channel.
BizCastr.tv will be providing entertaining, character-driven episodes, in which businesses and viewers can interact. This gives viewers an opportunity to see businesses sharing their stories and passions, and by doing so creating why a consumer would need or want to do business with them. The channel allows businesses to take advantage of the power and popularity of reality content and digital marketing, providing a level of brand recognition and customer loyalty possibilities to any size business.
BizCastr.tv is the brainchild of Dean Soukeras, Dennis Cieri and Rosa Morales. They collectively believe that a win for all includes both the success and popularity of reality programming, more than fifty billion online videos viewed each day and a real need for millions of businesses to find a cost effective, social media centric w ay to tell their story and engage consumers.
According to Dean Souckeras, President, "This is a great opportunity for a small business to have a voice, tell its story, and give insight to the backstage of the business. In most cases, these businesses are overshadowed by large corporations. What we do brings those people out of the shadows and into the limelight."
Initially, BizCastr.tv is broadcasting three shows, with more in development. Those shows include: Love Coach, with Samantha Karlin, about a NYC dating coach and those seeking her advice. Night Life featuring Rapture Louge which tells the tale of a neighborhood establishment and the characters that call it their "favorite." Building NY, staring Angelo Armos, a restorative contractor and his business adventures in the Big Apple. Each of the shows and those to follow the premise that all business is personal and that people buy from people they like making the reality format with BizCastr.tv an impactful option for virtually any business.
One of the featured shows is "Building New York: Armos 8 Restoration." Armos 8 Restoration's reputation is built on commitment, honesty and quality work. In a field where on-time and on-budget are a rarity, Armos 8 delivers on both. Viewers will witness Angelo dealing with local traffic enforcement, bad weather, city inspectors, and demanding owners, while being a dedicated father.
Angelo Armos was ecstatic about his show when he stated, "I can't tell you how much fun this has been sharing my story and putting the show together. We just started filming and people are already talking about it and telling their friends."
BizCastr.tv is located on Madison Avenue, New York, NY.