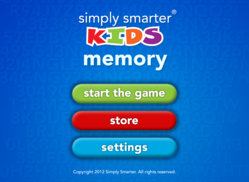 Every day we see the dramatic results of improving memory and cognitive ability. It's not a pipe dream—it can be done, and we can change lives (Bob Doman)
Ogden, UT (PRWEB) June 14, 2012
The National Association for Child Development (NACD) and ASCI have released Simply Smarter Kids-Memory, a much needed iPhone and iPad app for improving working memory and academic success. This app is the result of over 40 years of work by Bob Doman, founder of NACD, in creating and applying methodologies for developing short-term and working memory in children and adults. Simply Smarter Kids-Memory is a fun and engaging way to help children build the foundation they need to attend, learn, think, communicate, and succeed.
NACD (http://www.nacd.org) and ASCI (http://www.asci.us) are proud to release this very important app. Says creator, Bob Doman: "I have grown increasingly concerned about the working memories of our children, and thus our population, in recent years. I strongly suspect that working memory has declined over the past few decades, and I believe that this decline can be attributed to a number of societal changes. I also suspect that this decline in working memory has contributed to the dramatic increase in attention issues and the decline in American education." Doman further stated that he believes that improving working memory, with methods such as the research-based Simply Smarter Kids – Memory app, will have a significant impact on all of these areas of function, both for individuals and for society.
The clinical work of Bob Doman and NACD supports the conclusions of a study by Alloway and Alloway (2008) that suggested that working memory was a better predictor of academic success than was IQ. And in a study conducted by NACD, the scores of reverse auditory digit span tests (measurement of working memory) highly correlated (0.89) with scores on the Simply Smarter Kids-Memory app. Doman believes that processing skills and short-term and working memory provide the means with which we access our innate intelligence.
The significance of this work is represented by the NACD Foundation's Simply Smarter Project, a grassroots effort to assess, increase awareness of, and improve the processing and memory skills of the planet. (http://www.nacdtheproject.com) "Every day we see the dramatic results of improving memory and cognitive ability. It's not a pipe dream—it can be done, and we can change lives," Doman stated.
Under Doman's direction, NACD has been creating activities and software to assist in the development of these critical skills since 1979. The first software application, which operated on a Commodore Pet computer, was created in the early '80s. Since that time NACD has refined and developed their understanding of learning and cognitive function through numerous methodologies utilized with tens of thousands of children and adults. NACD bases their approach to neurodevelopment on brain plasticity, the fact that neurological function changes through appropriate input and stimulation. "The Simply Smarter Kids – Memory app is an example of one way to provide appropriate input and stimulation. You can improve your memory," Doman says.
The National Association for Child Development was founded in 1979 and is based in Ogden, Utah. NACD has chapters in 16 US cities, London, and New Delhi. NACD's neurodevelopmental work began with children and adults with various developmental issues, including brain injury, Down syndrome, autism, learning disabilities, and ADD and expanded into work with "typical" and gifted children and adults wishing to maximize their abilities. NACD, with their neurodevelopmental programs targeting brain plasticity, has been on the cutting edge of understanding and assisting children and adults since its inception.
Simply Smarter Kids-Memory is one of a series of programs, which includes the Simply Smarter System, a comprehensive brain enhancement program being launched by NACD in the very near future. The Simply Smarter System is designed to enhance short-term memory, working memory, and executive function, as well as improve the visualization and conceptualization skills critical to academic success.
ACSI
ASCI has been in the custom software business since 1993. Please visit our website at http://www.asci.us.