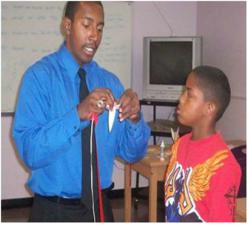 "My teacher Brian Johnson's aviation class was the first and the best aviation class I have ever taken. Brian's aviation class gave me the challenge that I have been looking for, and exposed me to a lot of great opportunities in aviation."
Anthony
Washington DC (PRWEB) June 06, 2012
In a small classroom at TransTech Academy – Cardozo High School, students are building model rockets, flying simulators, studying flight plans, and more in a program designed to promote Science, Technology, Engineering, and Math (STEM) education through aviation. Believing that kids learn better with hands-on training, Discover Aviation Now founder Brian Johnson, an Air Force Reservist, combined his passions for flying and education to introduce our nation's youth to exciting career opportunities in the aviation industry. And now he wants to take that program one step further with his ambitious Build-A-Plane project.
Fifteen local area high school students, working with the University of the District of Columbia Aviation Maintenance and Technology program, will get their hands dirty rebuilding a Pulsar XP experimental aircraft and restoring it to flying condition. Along the way the students will gain invaluable knowledge in STEM subjects by learning about aircraft propulsion, structure, electrics, and hydraulics, all in a very hands-on environment. Brian Johnson is seeking grants and donations to fund the project, couching it as an important contributor to our nation's future.
In this opinion he is not alone. American education in STEM is in decline compared to the world, ranking 25th in math and 12th in science. Recognizing this as detrimental to economic growth in the 21st century, the National Governors Association is pushing for STEM grant funding and to source teachers qualified and interested in these subjects. North Carolina Governor Bev Perdue, hosting a recent STEM summit in Durham, said, "STEM education is a powerful foundation for individual and societal economic success. Governors have been working hard to improve education and to ensure the United States does not lag behind."
Brian couldn't agree more. "Motivation through the discovery of aviation," he proclaims as his motto. "Through aviation STEM training our students gain valuable oral and written communication skills along with problem solving and technical abilities. And they can use these skills in the future, whether they go into aviation or some other technical career field."
Discover Aviation Now plays a small but important role in preserving America's economic vitality. Build an airplane to build America, one student at a time. That's its goal, and it is seeking funding to achieve that goal through charitable donations online at http://www.discoveraviationnow.org, and through the grant application process.
About Discover Aviation Now
Discover Aviation Now is a 501(c)3 nonprofit organization on a mission to introduce aviation and the exciting career fields it has to offer to local Washington DC area students. Discover Aviation Now also seeks to improve Science, Technology, Engineering, and Mathematics skills for the students through its Aviation STEM Project.