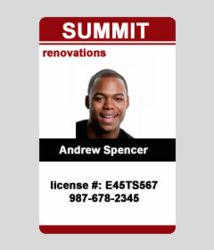 New Hyde Park, NY (PRWEB) June 12, 2012
QuickIDcard.com introduces Online Custom ID Badge Creator. This easy to use web based solution for creating custom ID cards allows organizations to make an ID badge by personalizing one of over 50 templates.
Nearly every business and institution needs some sort visual identification for its employees. While smaller organizations might have difficulties spending several thousands of dollars on ID card printing equipment and software purchases, larger institutions often look to outsource their ID badge printing process to reduce costs.
However, now anyone with an internet connection and a Flash supported web browser can take advantage of this service. The design features available online include:

uploading and scaling photos
rounding photo corners
uploading and scaling your company logo
adding text labels
generating scannable barcodes in multiple formats
editing reverse side of the card
requesting a slot to be punched for an accessories attachment
QuickIDcard.com includes several predesigned ID card templates for various organization types, including medical, press, firefighting, and investigation institutions, among many others. Also customers can choose between horizontal and vertical templates to best satisfy their needs.
The high quality, professional ID cards offered by QuickIDcard.com are made of PVC and are printed by high end Fargo plastic card printers. The badges are very durable, wear resistant, and waterproof.
QuickIDcard.com offers multiple attachment options at competitive prices including:

lanyards
badge reels
clip vinyl straps
magnet holders
In addition to printing custom made badges, QuickIDcard.com will also print badges that customers have predesigned and are ready to print.
About QuickIDcard.com:
QuickIDcard.com is a leading provider of custom ID badges for small and medium organizations. Custom ID card creator is the new generation cloud based identification management solution.
For additional information visit http://www.quickidcard.com