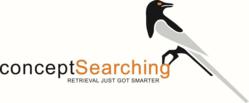 Experts from Microsoft and Project Performance Corporation will review how components from Concept Searching's Smart Content Framework™
McLean, VA and Stevenage, UK (PRWEB) June 05, 2012
Concept Searching, a global leader in semantic metadata generation, auto-classification, and taxonomy management software, and developer of the Smart Content Framework™, will be hosting the fourth Webinar in its 2012 Expert Webinar Series on Tuesday, June 19th at 11:30am – 12:30pm EST, along with Project Performance Corporation, and industry expert Jeff Carr of Microsoft. The topic of this Webinar is "Managed Metadata Maturity: Case Studies of Enterprise Information Management in SharePoint 2010".
Learn from and about companies that have already launched SharePoint 2010. This Webinar will feature case studies, and guest speakers will share how they have leveraged the Term Store and Managed Metadata Services in SharePoint 2010 implementations.
Experts from Microsoft and Project Performance Corporation will review how components from Concept Searching's Smart Content Framework™ have been used not only improve search but also to apply content types based upon vocabulary and metadata. Fully integrated with SharePoint 2010 and the Term Store, the solution can workflow specific types of content based upon policy and guidelines addressing such business issues as preservation and disposition, risk and governance.
The guest speaker for this Webinar is Jeff Carr, a Business Productivity Technology Solutions Professional at Microsoft. Jeff is responsible for working with customers across Western Canada to ensure business value for investments in SharePoint, Microsoft Office and Fast Search. With over 10 years' experience in technology and information management, he has developed an excellent multi-disciplinary foundation in the areas of taxonomy, metadata, information architecture, content management and search.
Jeff specializes in user-centered information design by employing a holistic approach to problem solving, and has been responsible for the strategy, development, and implementation of numerous successful initiatives, both large and small and across a wide range of industries. Jeff is also an author and presenter, having written articles on SharePoint for AIIM, KMWorld and CMSWire, and presented on webinars and at conferences, including SharePoint Best Practices, Intelligent Content and Taxonomy Boot Camp.
Space is limited. Register now at https://www3.gotomeeting.com/register/679981262
For full details of the Expert Webinar Series 2012 visit http://www.conceptsearching.com/wp/news-events/upcoming-webinars-web-page/
Follow Concept Searching: http://www.twitter.com/conceptsearch
About Concept Searching
Founded in 2002, Concept Searching provides software products that deliver conceptual metadata generation, auto-classification, and powerful taxonomy management from the desktop to the enterprise. Concept Searching, developer of the Smart Content Framework™, provides organizations with a method to mitigate risk, automate processes, manage information, protect privacy, and address compliance issues. This information governance framework utilizes a set of technologies that encompasses the entire portfolio of information assets, resulting in increased organizational performance and agility.
Concept Searching is the only platform independent statistical metadata generation and classification software company in the world that uses concept extraction and compound term processing to significantly improve access to unstructured information. The Concept Searching Microsoft suite of technologies runs natively in SharePoint 2010, FAST, Windows Server 2008 R2 FCI, and in Microsoft Office applications.
The building blocks of Concept Searching's Smart Content Framework™ are being used by organizations from a diverse number of industries including the US Army, the US Air Force, the UK MOD, Baker Hughes, Deloitte, Logica, NASA Safety Center, OppenheimerFunds, Point B, Perkins+Will, Parsons Brinckerhoff, Burns & McDonnell, MarketResearch.com, the US Department of Health & Human Services, Transport for London, the London Fire Brigade, the National Transportation Safety Board, and Xerox.
Headquartered in the US with offices in the UK, South Africa and Canada, Concept Searching solves the problem of finding, organizing, and managing information capital far beyond search and retrieval. The technologies are being used to drive intelligent migration, enable effective records management, identify and lock down sensitive information and enhance governance. For more information about Concept Searching's solutions and technologies please visit http://www.conceptsearching.com
About Microsoft
Founded in 1975, Microsoft is the worldwide leader in software, services and solutions that help people and businesses realize their full potential.
All product and company names herein may be trademarks of their respective owners.