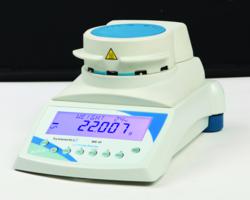 Vernon Hills, IL (PRWEB) June 05, 2012
Moisture determination ensures a consistently uniform product through each stage of production. For speed of response and ease of use, the Symmetry® MB Moisture Determination Balances from Cole-Parmer are an efficient new option for incoming inspection and receiving, quality control, and production.
The Symmetry MB Moisture Determination Balances feature an automatic test setting to run multiple tests quickly. An internal memory bank stores a range of test procedures that can be recalled at the touch of a button. The balance delivers results in grams, % moisture, % solids, % moisture vs dry weight, and % solid vs dry weight. Its large, brilliant display shows temperature, time, and moisture simultaneously. The multi-language unit displays and prints in English, German, French, and Spanish. A single 400 W halogen heater controls temperatures from 50 to 160°C. Overload protection prevents damage to internal weighing components and offers continued performance and long-term usability.
To keep the balance secure from theft, it includes a locking slot for a Kensington™ type lock and cable. Choose from 115 or 220 V models. For more information, call 800-323-4340 or visit ColeParmer.com/19271.
Cole-Parmer has been a leading global source of laboratory and industrial fluid handling products, instrumentation, equipment, and supplies since 1955. Our product lines, including popular brand names such as Masterflex®, Oakton®, and more, are sold through company-owned customer channel outlets and a strong network of international dealers. We also feature an ISO-17025-accredited metrology lab for instrument calibration and repair. Cole-Parmer responds with excellence to customer needs, and offers application expertise and technical support. For more information, contact Cole-Parmer, 625 East Bunker Court, Vernon Hills, IL 60061. In the US, call 800-323-4340. International customers, call 847-549-7600. Visit us at http://www.coleparmer.com.