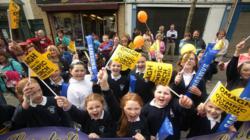 We are delighted to bring the excitement and inspiration of the Olympic Torch Relay to Northern Ireland
(PRWEB) June 05, 2012
On Tuesday 5 June, the London 2012 Olympic Torch Relay – presented by Coca-Cola, Lloyds TSB and Samsung – will travel 146.45 miles through 21 communities on its journey from Derry~Londonderry to Newry.

On Day 18 the Relay will travel 146.45 miles
98 inspirational Torchbearers will carry the Flame
Evening celebration to take place in Pairc Esler, Newry
98 Torchbearers will carry the Flame before it arrives at the Evening Celebration in Newry where a cauldron will be lit to mark the culmination of the day's festivities. After the celebrations have finished, the Flame will be transferred to a lantern and it will stay in Newry overnight.
The Flame will be carried through the following communities: New Buildings, Magheramason, Bready, Ballymagorry, Strabane, Sion Mills, Omagh, Dromore, Irvinestown, Enniskillen, the furthest point west that the Torch Relay will go, Fivemiletown, Clogher, Augher, Aughnacloy, Caledon, Armagh, Portadown, Gilford, Banbridge and Newry.
Highlights for today are:
The first Torchbearer of the day, Gavin Bate, 46, from Derry~Londonderry, will carry the Flame through the Live Site in Guildhall Square. Gavin was selected through the LOCOG public nomination campaign. As a 21 year old, he walked across the Sahara Desert by himself - a three month journey that nearly cost him his life. The isolation and challenge of this trip focused him and his life from that point forward. A former Coleraine Scout leader, Gavin worked tirelessly with young people in Northern Ireland before his travels opened his eyes to the huge needs of so many people, whose lives were merely a painful existence.
Yvonne Bowles, 56, from Enniskillen, will carry the Torch at Enniskillen Castle. Yvonne, who was nominated through the LOCOG campaign, has been involved with the Girl Guide movement for over 40 years and has also spent time fundraising for the Horizon West Hospice in Enniskillen which gives young cancer sufferers the opportunity to receive hospice care close to their friends and families.
The last Torchbearer of the day, Ryan Cinnamond, 17, from Newry, will carry the Flame into the Evening Celebration at Pairc Esler, Newry. Ryan was nominated by Newry and Mourne District Council. Ryan fell ill on 11th November 2010 and was rushed to Belfast City Hospital where he underwent 10 hours of surgery after suffering a ruptured aortic aneurism. Ryan had a 10% chance of survival and lost 7 litres of blood. The following day doctors were left with no choice but to amputate both Ryan's legs through the knee. Ryan remained in ICU for 3 1/2 weeks, returning to theatre on November 24th and December 9th. After a brief spell at home Ryan developed a blood clot on his right lung. Through his ordeal, Ryan also lost a kidney. Nearly 12 months later, Ryan is walking with the assistance of prosthetic legs. What makes Ryan so special is that he never complained once during this terrible time in his life. Ryan was a very keen, competitive sportsman and lived life to the full. He is determined to life his life to the full and at present he continues with his studies after gaining great results with his GCSEs.
The evening celebration will take place in Pairc Esler, Newry. It will feature a variety of entertainment staged by LOCOG and the three Presenting Partners of the London 2012 Olympic Torch Relay - Coca-Cola, Lloyds TSB and Samsung - with support from Newry and Mourne District Council. The show will start at 4pm.
The line-up includes music from General Fiasco, a dance troupe who will provide a unique fusion of street performance, theatre and sport and dance act Twist and Pulse. There will also be entertainment from local acts staged by Newry and Mourne District Council.
Towards the end of the two-hour show, the last Torchbearer of the day in Derry~Londonderry will light a celebration cauldron on stage at the event which will enable the Olympic Flame to be seen by the audience.
Torchbearer highlights:
Bob Lingwood, 93, from Omagh, will be carrying the Flame in Omagh. Bob is one of the most dedicated community activists in Omagh. His work includes being a member of PROBUS Men's Club, Omagh Churches Forum, Omagh Gardening Society, FOCUS (the Community Network) and he is current Chairperson of Omagh Accesss Forum who deal with accessibility Issues for disabled people. He is as fit and active as someone a third of his age; whether you see him driving about in his car, or climbing the two flights of stairs of Omagh Community House, Bob is always flying around making sure that the community's issues are first and foremost on his agenda.
Three members of a family from Lisburn will all carry the Flame in Fivemiletown. Jonny (51), Ella (15) and Christy (18) Davis were all nominated through the Samsung campaign. Jonny is a double Fencing Olympian and he currently coaches young Fencers in Belfast. He also works with a number of charities raising funds for them. Christy and Ella volunteer at numerous events including the World Junior Fencing Championships, Boccia World Cup and British Transplant Games. They have also volunteered at many of the events run their which all have a charity partner.
A couple from Derry/Londonderry will both carry the Flame in Sion Mills. Danea (52) and James (51) Herron were both nominated through the LOCOG public nomination campaign for their work and dedication at the City of Derry Athletics Club.
A mother and son will both carry the Flame in Portadown. Alison (44) and Philip (16) Slater were all nominated through the Samsung campaign. Although suffering from MS, Alison set up and runs a fencing club for under 18's in Lisburn with the ethos of making fencing an affordable and accessible sport for all. She also introduced the plastic form of fencing to local primary schools and helps run afterschool classes. She co-ordinates a Volunteer Now programme for U25's within NI Fencing encouraging them to Volunteer and receive recognition for their achievements. Philip is a keen fencer and as a result has trained as a coach, one of the youngest in Northern Ireland and helps out each week doing mini fence classes at local primary schools. Philip is also a young carer with his two siblings to his mum who suffers from MS and is a single parent. For this he won the MS Society`s young carer of the year with his brother.
Enda Strathern, 23, from Bellaghy, will be carrying the Flame in Enniskillen. Enda is part of indie rock group, General Fiasco. He sat on a Coca Cola regional judging panel alongside The Wanted, Dizzee Rascal and You Me At Six and helped select the 1,300 inspirational Future Flames during Coca-Cola's nomination campaign and will be playing at four evening celebrations across Northern Ireland.
Trevor Parkhill, 62, from Country Atrim, will be carrying the Flame in Newry. He was nominated through the Lloyds TSB public nomination campaign. He has worked tirelessly over the past 30 years to bring young people in Northern Ireland together in education & sport.
The Olympic Torch Relay will also include exciting moments with extreme heights, high speeds and breath-taking spectacles and the Flame will be travelling by different methods of transport including horseback, bicycle, tram and steam-train. Every county in England and every Local Authority area in Scotland, Northern Ireland and Wales will host the Olympic Flame, with visits reaching as far north as Lerwick in Scotland to St Helier in the south, Lowestoft in the east and Enniskillen in the west. Many thousands of people are expected to welcome the Olympic Flame along the route each day and celebrate the achievements of the Torchbearers in parks, squares and streets right around the UK.
The convoy travelling with the Flame consists of 14 core vehicles, including a pilot car, Torchbearer drop-off and pick-up shuttles, Presenting Partner vehicles, a media vehicle, a command car and security vehicles. The lead convoy, including the Presenting Partner vehicles, will provide entertainment for the crowds. The Torchbearer will follow some 5 to 7 minutes later.
A crew of approximately 350 people will be working each day of the Relay. Core teams of LOCOG staff, the Metropolitan Police Torch Security Team, Presenting Partners, host Police Forces and host Local Authorities will be working together throughout the 70 days.
James Williams, Director, Olympic Torch Relay, Coca-Cola Northwest Europe & Nordics, said: "We're eighteen days into our incredible journey and today two more Coca-Cola Future Flames will carry the Olympic Flame, with Conor McArdle and William Lyness running in Armagh and Banbridge. We will also get everyone to Move to the Beat tonight as we bring General Fiasco to the stage in Newry."
Sally Hancock, Director, London 2012 Partnership at Lloyds Banking Group, said: "We are delighted to bring the excitement and inspiration of the Olympic Torch Relay to Northern Ireland. We're calling on everyone to cheer their local Lloyds TSB Torchbearers – extraordinary people like Trevor Parkhill and Clare Quinn, running in Newry and Omagh – who have made a difference in their communities through their contributions to education and sport."
Sunny Hwang, Vice President & Head of Global Sports Marketing, Samsung Electronics, said: "Samsung is delighted to be a Presenting Partner of the Olympic Torch Relay and we feel the Torchbearers selected really do demonstrate the 'gone the extra mile' community element that lies at the heart of our London 2012 Olympic Torch Relay campaign."
For further information please contact the London 2012 Press Office.
Notes to editors:
Each day two short packages of broadcast footage will be made available. The packages will be available via the Footage library – accessible from the Media Centre on london2012.com and direct from this link http://footagelibrary.london2012.com. Media will need to register for access in advance. Registration is free.
The broadcast of the Olympic Torch Relay is provided for Editorial Use Only. There can be no commercial association, no third party association and no commercial/ad superimposition on the video footage, unless the prior written consent of the IOC is acquired.
About the London 2012 Olympic Torch Relay Presenting Partners:
As the longest standing Presenting Partner of the Olympic Torch Relay, Coca-Cola will be using its heritage and experience to spread excitement across the UK ahead of London 2012. Coca-Cola's national nomination campaign - Future Flames – has focused on finding inspirational young people from across the country to have the once in a lifetime opportunity to carry the Olympic Flame. This summer Coca-Cola will celebrate these Future Flames: young people who use their passions in areas like sport and physical activity, music and dance, and community and the environment; to spread happiness in their local communities. Find out more at: http://www.coca-cola.co.uk/olympic-games
As the only National Presenting Partner of the London 2012 Olympic Torch Relay, Lloyds TSB will be taking the inspiration and excitement of the Olympic Flame right to the heart of communities across the UK. As part of Lloyds Banking Group, Bank of Scotland will be the National Presenting Partner in Scotland. We are creating as many opportunities as possible for communities the length and breadth of the UK to get involved as the Flame travels past their front doors.
Lloyds Banking Group is Britain's biggest corporate investor in UK communities and in 2011 invested £85 million and as part of the Group's Community Investment Programme, we've launched the Lloyds Banking Group Community Fund to give back to the communities in which we operate and pass through on our journey with the Olympic Flame. We're inviting everyone to visit the Lloyds TSB stand at each Evening Celebration to vote for a community project in their area that inspires and supports young people. By voting at the Evening Celebration members of the public will automatically enter a draw to win four tickets to London 2012. The two projects that receive the most votes at each locality will each win a £5,000 grant from Lloyds Banking Group. At the Lloyds TSB site members of the public will also have the opportunity to have their photo taken with the Olympic Torch, meet Lloyds TSB Local Heroes – the future stars of Team GB and ParalympicsGB – and get up close to our Flame Followers. To find out how you can join in the celebrations with Lloyds TSB (in your community please visit http://www.lloydstsb.com/london2012
As a Presenting Partner of the London 2012 Olympic Torch Relay, Samsung aims to encourage everyone to be part of the greatest show on Earth to make London 2012 'Everyone's Olympic Games.' We aspire to offer new and memorable experiences for everyone around the world through our own innovative and smart wireless technology. Samsung is providing 1,360 Torchbearers, who have "gone the extra mile" by contributing to the local communities, through its worldwide public nomination campaign. In total over 25,000 nominations were received. Samsung will support towns and cities to celebrate the exciting moment of the Torch Relay and help showcase Great Britain's cultural landmarks to provide a more enjoyable experience to everyone. The evening celebrations that will be staged by Samsung in 66 towns and cities throughout the Olympic Flame's journey across the UK, will allow Samsung to entertain the community they are visiting. The Samsung caravan, complete with LED screen on the side showcasing runners and goodwill messages, will follow the Torchbearers around the UK cheering up everyone to celebrate the Torch Relay with music and interaction with local communities. It is Samsung's ambition that London 2012 will be an event that reaches and involves more people than on any other Olympic Games occasion. To learn more about Samsung's London 2012 Olympic programme, please visit http://www.samsung.com/london2012
The Supporters of the London 2012 Olympic Torch Relay are:
Worldwide Olympic Partners Procter and Gamble and Visa, Tier One Partners adidas, BMW, BP, British Airways, BT and EDF, Tier Three Providers Aggreko, Holiday Inn and NATURE VALLEY.
The BBC will be providing extensive coverage of the Torch Relay on television, radio and online. This will include special Breakfast shows on every BBC local radio station, and extended live coverage of an evening celebration event in every Nation and English Region. Full details of the coverage will be at bbc.co.uk/2012.
London 2012 Games partners:
The Worldwide Olympic Partners who support the London 2012 Olympic Games and the National Olympic Committees around the world are Coca-Cola, Acer, Atos, Dow Chemical Company, GE, McDonald's, Omega, Panasonic, Procter and Gamble, Samsung and Visa.
LOCOG has seven domestic Tier One Partners - adidas, BMW, BP, British Airways, BT, EDF and Lloyds TSB. There are seven domestic Tier Two Supporters – Adecco, ArcelorMittal, Cadbury, Cisco, Deloitte, Thomas Cook and UPS.
There are now twenty-eight domestic Tier Three Suppliers and Providers – Aggreko, Airwave, Atkins, Boston Consulting Group, CBS Outdoor, Crystal CG, Eurostar, Freshfields Bruckhaus Deringer LLP, G4S, GSK, Gymnova, Heathrow Airport, Heineken UK, Holiday Inn, John Lewis, McCann Worldgroup, Mondo, NATURE VALLEY, Next, Nielsen, Populous, Rapiscan Systems, Rio Tinto, Technogym, Thames Water, Ticketmaster, Trebor and Westfield