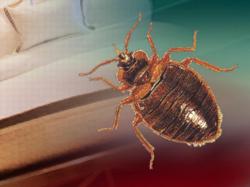 With a bed bug spray ready, anybody can kill bed bugs easy and quick.
Cincinnati, OH (PRWEB) June 07, 2012
Bed bug exterminators are a big help to a smooth elimination of the blood-sucking insects. However, when in a travel, vacation or business trip, one is on his own to prevent contact with bed bugs and avoid bringing them back. In relation to that, BedBugBully.com advised 2012 Olympic attendees to beware of the little vampire-like pests. Additionally, it recommended them and hotel owners to prepare a pesticide-exempt bed bug spray.
The 2012 Summer Olympics will kick off in just a little less than two months. And no doubt, sports are fans are excited about it. However, the event will make not just them happy. For sure, it will make bed bugs crawling in excitement as well. After all, it is a food fest for them.
As the biggest sports event attracts tourists from across the world, bed bug risk is higher. And more than any place, hotels have the greatest risk to face. Because of people coming and going every now and then in them, it is easy for bed bugs to come in contact with every body. And small and fast-paced as they are, they are not often noticed hitching a ride.
Learn More About Bed Bugs
To prevent contact with the blood-fed insects, BedBugBully.com advised Olympics participants, staff and supporters to be watchful. It said that before settling in a room, one must make sure that no bed bug is present. The bed, the closet, the couch and the wall hangings are some of the specific things to inspect, it added.
However, reports have it that bed bugs can also be present in taxis, buses, trains and planes. Hence, one must also be mindful of where to take a seat.
Get the Latest Bed-Bug-Related News
Apart from preventing any encounter with bed bugs, the company also recommended preparing a bed bug spray. As mentioned, bed bugs are small and fast-paced. And basically, those characteristics made them sneaky. So no matter how careful a person is, there is still a possibility of them coming to one's place.
With a bed bug spray ready, anybody can kill bed bugs easy and quick. That prevents a wider bed bug infestation and bigger extermination cost.
Nonetheless, among the many bed bug sprays available today, the best product is the one that can promise both effective and safe treatment. And that is exactly the kind of solution that BedBugBully offers. With its pesticide-exempt bed bug spray, also called Bed Bug Bully, it kills the pests without harming anybody's health and the environment.
For homeowners, that safe and effective treatment means less worry and work. For hotel owners and managers and pest-control contractors, the use of the product means less labor cost and even bigger profit.
Keep Bed Bugs Away. Get Bed Bug Bully Today.