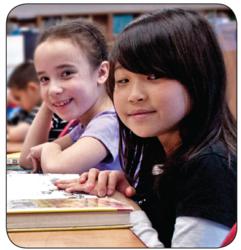 Hertz Furniture is thrilled to be working with charter schools across the country as the movement reaches this 20-year milestone.
Mahwah, NJ (PRWEB) June 06, 2012
Hertz Furniture, national reseller of educational furniture, has been supplying schools across the US for over 45 years. On the occasion of the impending twentieth anniversary of the US charter school movement, and the celebratory events at the National Charter Schools Conference later this month, Hertz takes a moment to reflect on the contribution of charters to the US educational landscape. From humble beginnings in Minneapolis in 1992, the charter school has grown to be a key component of the educational matrix. Catering to smaller groups and special interests, charters offer an otherwise unavailable option to students across the country. Hertz Furniture has been there watching the movement blossom and grow and achieve. As educational furniture has evolved and classrooms have changed, Hertz Furniturehas kept pace, offering innovative classroom furniture which adapts to the needs of today's educators.
The noteworthy difference of charter schools exists in that those in charge of these schools have an increased amount of liberty to design specialized curriculums. They may lengthen school hours or even years and in general create a program tailor-made for the students who attend the particular school. The natural result of such freedom are teachers who feel valued and energized by the knowledge that their opinions and ideas count. Charter schools can take full advantage of the latest technology in order to develop an art or science-centered curriculum. These schools tend to have smaller class sizes, resulting in a deepening of educators' ability to discover issues and opportunities earlier, sense what will work for their individual students, and adjust the program accordingly. Consequently, charter school teachers and students can revolutionize the learning process in a way that encourages students' interests and meets their needs.
The charter school movement embodies the concept of changing with the times and moving with the current of students' evolving needs and interests. Charter schools often outperform their regular public school counterparts and offer many of the advantages of private schools, proving that paying high tuition is not a prerequisite for success.
"Hertz Furniture is thrilled to be working with charter schools across the country as the movement reaches this 20-year milestone," says David Mocton, Vice President of Sales.  "Charters are breeding grounds for innovation in education, and Hertz is happy to have provide classroom furniture for the schools of today and those for tomorrow as well.  We're looking forward to seeing many familiar faces at the conference later this month, and to the opportunity to meet new charter administrators as well.  We're bringing a selection of products, including some new items, and look forward to sharing them with attendees in Minneapolis."
Hertz Furniture is a Vendor member of many state-level charter school associations, offering pre-opening advice and planning services at no cost to new and expanding charters.  At the National Charter Schools Conference at the Minneapolis Convention Center (June 19-22), Hertz Furniture is excited to be featuring it's new line of auditorium seating from GreyStone Seating as well as a first look of exclusive new lines of library furniture from Russwood.
For over 45 years Hertz Furniture has supplied schools, religious institutions, businesses and government offices with top quality commercial furniture and superior customer service. Speedy Quotes, Quick Ship products, a wide selection of Eco-Friendly furniture,a free Project Planning and Design service and the best warranties in the industry are just a few of the ways that Hertz Furniture provides added value to its customers. For additional information on Hertz Furniture and its extensive line of products, please visit Hertz Furniture, speak to a furniture specialist at 888-793-4999, or send an email to amyhoffmann(at)hertzfurniture(dot)com.