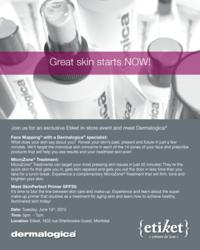 That is why we like working with Etiket, their goals are our goals. We see this event as a way to show Montreal what Dermalogica can do for skin health,
Montreal, Quebec (PRWEB) June 06, 2012
Clients of Etiket will be invited to discover the world-renowned skin care brand, Dermalogica, by experiencing the "Great Skin Starts NOW!" event on Tuesday, June 19th from 3 pm to 7 pm. With Etiket's on-going conviction to give their clients visible results through the skin care products they offer as well is in their treatment rooms, the Montreal skincare and beauty retailer is inviting clients to join them to discover and experience Dermalogica.
Clients will experience Face Mapping® with a Dermalogica specialist, a complimentary 20 minute MicroZone® skin treatment and to try out the newest product to join the award winning AGE smart® system: SkinPerfect Primer SPF30. Clients are being invited through e-mail, at the store level, and through Etiket's Facebook page.
"At Dermalogica we are all about education. If the client is educated about their skin and what product is right for them, they will see results. That is why we like working with Etiket, their goals are our goals. We see this event as a way to show Montreal what Dermalogica can do for skin health, " said Melissa Daniels, General Manager of Dermalogica Canada.
Etiket is a luxury retail destination providing the best in cosmeceuticals, skincare and beauty products as well as exclusive perfumes and accessories including a range of unsurpassed aesthetic services. The philosophy is to source and offer a carefully edited selection of high quality, original and effective beauty products from innovators and specialists around the world.
"We know that our customers want to experience a brand AND see results and that is why we have chosen Dermalogica for our first major in-store event. We have worked with them to design an event where clients can see everything that Dermalogica has to offer," said Simon Tooley, president of Etiket.
Etiket is situated downstairs from Médecine Esthétique Dr Yves Hébert, a clinic dedicated to aesthetic treatments and surgery. With over twenty years practicing aesthetic medicine, Dr. Hébert is the medical consultant for Etiket. Etiket has drawn on his expertise to build protocols to complement any procedures performed at the clinic as well as carrying skincare products that may be used on their own. Dr. Hébert has been involved in the choice of each product and service that is offered.
"When helping to choose skin care products for Etiket I am looking at three things: active ingredients, results and who is behind the product. Dermalogica is solid on all three levels," said Dr. Yves Hébert.
Etiket sells Dermalogica both in their brick and mortar store in downtown Montreal on Sherbrooke Street as well as through their on-line retail store at Etiket.ca. The online store was launched in March and offers the online consumer help or advice if needed through a toll free number directly to the store. The Etiket team has been extensively trained in skin care and understands the importance of education and addressing each customer's specific needs.