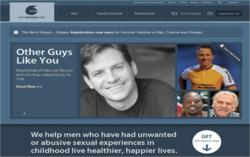 Men can find the help and information at their own pace, in complete privacy, and with absolute anonymity.
Los Angeles, CA (PRWEB) June 06, 2012
The long awaited opening statements in the Jerry Sandusky sexual abuse trial (Commonwealth of Pennsylvania vs. Gerald A. Sandusky, CP-14-CR-2421-2011 and CP-14-CR-2422-2011) get underway on Monday, June 11, and 1in6, Inc. -- a nonprofit organization whose mission is to help men who may have had unwanted or abusive sexual experiences in childhood live healthier, happier lives -- is positioned to provide the most comprehensive set of online resources in the world to men and their loved ones as the trial unfolds.
"The trial of Jerry Sandusky will be an enormously triggering event for the millions of sexually abused men who will be inundated by the media coverage that the event will generate," said Dr. David Lisak, founding board member of 1in6. "Thankfully, there are resources available to help these men, as well as their partners and family members. The 1in6 website was specifically designed to provide these men with information, and access to other online resources, and to do so in a receptive and non-threatening way. Men can find the help and information they need at their own pace, in complete privacy, and with absolute anonymity."
In November 2011, just as the story broke in the Sandusky case, web traffic to 1in6.org increased by over 300% in one month. Since that time, web traffic has remained nearly twice what it was before November, which speaks to the impact that a very public case can have on viewers across the country and the world. For many men, this public case will trigger memories that have been locked away for a very long time, and the resources at 1in6.org are an essential first step towards recovery.
On Tuesday, CNN reported that "several of Sandusky's alleged victims, including Victim 4, asked a judge to protect their identities at trial. However, Cleland ruled Monday that the alleged victims' identities may not be concealed during the trial, although they will be protected through the jury selection process."
For those claiming abuse, many of them adults, this process may be the most difficult time in their lives, where their anonymity and control of these memories is forced into the public eye.
The board of directors, advisory board and staff of 1in6, Inc. voted at its year-end meeting in December 2011 to dedicate the organization's fifth anniversary year (2012) in honor of the young men who have courageously come forward to testify in the Penn State case. The proclamation states, "We honor their courage, as we honor the courage of all those who have suffered childhood sexual abuse, and all those who stand with them in confronting violence and the exploitation of children."
1in6 offers a wealth of information and resources on its website, including a 24/7 online help-line and lending library. It is the most comprehensive online resource in the world on the sexual abuse of males. But most importantly, 1in6.org offers information and services to men at different stages of seeking information and help, including those who are not yet ready to "break the silence" by calling a hotline, seeking a therapist, or even participating anonymously in a supportive online community.