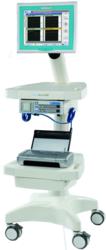 (PRWEB) June 07, 2012
The AureFlo® system consists of an touch-screen Monitor with proprietary FlowTrace® software connected to a Transonic HT300-Series–FT Flowmeter that operates the breadth of Transonic's perivascular and clamp-on flowsensors. AureFlo's® FlowTrace® software continuously displays flow in real time, captures the displayed flow data and records eight-second intervals for later review and analysis. An ECG can be displayed during coronary artery bypass grafting (CABG) surgery. AureFlo® can also be connected to a printer for hard copy documentation for a patient's record. The system's small footprint, eye-level display, convenient drawer and writing shelf makes it particularly compatible with OR ergonomics.
AureFlo® offers surgeons an integrated package to continuously measure, display, record and document absolute volume flow with the flow measurement reliability they've come to expect from Transonic. For 30 years Transonic measurement devices have been used for groundbreaking laboratory and clinical research, and to provide meaningful quantitative flow measurements during surgery, ECMO, angioplasty, and hemodialysis.
The surgeon and patient both directly benefit from flow measurement by gaining an important clue in determining whether a surgical repair is adequate, prior to the completion of the procedure. The AureFlo® provides quick, accurate, real-time feedback on the quantity of blood flowing through arteries, and provides essential information to help the surgeon make critical decisions on how to proceed. This eliminates some of the intuition and guesswork involved in determining adequacy of flow, enabling timely changes and better results while the patient is still in the OR.
"The AureFlo® System represents another milestone in the continued improvement of flow measurement tools that help surgeons make critical surgical decisions to ensure optimum outcomes for their patients," notes Transonic founder Cor Drost.