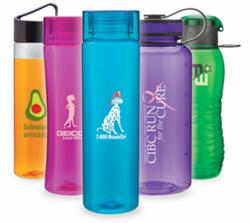 Eighty three percent of American consumers said that they enjoy receiving a promotional product from an advertiser.
(PRWEB) June 26, 2012
According to the Promotional Products Association International, the days of receiving endless cold calls and emails from companies are becoming a thing of the past. Instead, businesses have figured out a way to get into the consumer's daily life in a very discrete but powerful way through promotional products. In fact, this form of advertising is actually endorsed by the consumers, as proven by a study conducted by MarketTools Inc. In this study it was found that eighty three percent of American consumers said that they enjoy receiving a promotional product from an advertiser. Thirty-eight percent agreed promotional products are a great constant reminder of the company that is advertising their logo. 4AllPromos, in addition to many other promotional products companies, has seen first-hand the truth in the information found in this study.
When asked to comment on the growing promotional products industry, Cosmo Corigliano president of 4AllPromos stated, "Promotional products act as not only a form of advertising for a company, but also a way to show appreciation to a customer for the business that they have given to you. It's better than an email or phone call because it reminds the customer of your business in a professional and discrete way."
The Promotional Products Association International made it a point in the article to prove that promotional products are a far stronger approach to advertising in comparison to the old-fashioned approach of cold calls or emails. It was stated that when a consumer has a physical object to remind him or her of an organization, he or she is far more inclined to keep that business in mind when assistance from that company is required.
4AllPromos has seen the importance of promotional products, and their sales continue to grow as more and more businesses discover this new innovative way of advertising. With all the new different forms of technology available, companies like 4AllPromos are able to offer different options for not only the products themselves, but also the display of each company logo. Promotional products serve to not only act as a reminder of your business, but it also makes each customer feel appreciated for the business that they have given to your company time and time again.
Promotional product companies make it easier for any type of business that is looking for a form of advertising that will be sure to catch the attention of any potential customer. 4AllProms acknowledges that there are various types of businesses that require different forms of promotional advertising, which is why they offer numerous outlets that will represent each unique company in the right way. For example, for a company such as a traveling agency that wants to promote the idea of using their company to plan family vacations or business trips, there are traveling items available such as tote bags or flashlights. On the other side of the spectrum, for a coffee house that requires products that will promote customers to buy coffee from their cafe as opposed to others, there are coffee-related products such as mugs, koozies, or other forms of drinkware.
4AllPromos is one of the leading online retailers of promotional and custom imprinted products specializing in tote bags, drinkware, pens, apparel, calendars, gourmet food, travel accessories, fundraising, school spirit and political giveaways. To learn more about unique and custom imprinted apparel visit 4AllPromos online at http://www.4allpromos.com.