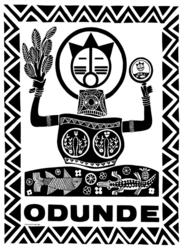 Philadelphia, PA (PRWEB) June 05, 2012
Representatives of media outlets are invited to attend the first major event of the 2012 Odunde Festival, a presentation by His Excellency Mauro Vieira, the ambassador to the United States from Brazil, who will be discussing investment, business and tourism opportunities for the World Cup FIFA 2014 and the 2016 Summer Olympics, both of which are scheduled to be held in Brazil.
The presentation will take place, today, at Huntsman Hall, University of Pennsylvania's Wharton School of Business, 3800 Walnut Street, 5:00pm to 7:00pm.
This year's Odunde Festival, the 37th annual, will focus on the culture and economy of Brazil, the world's fifth largest country and the home of one of the globe's fastest-growing economies. As the sixth-largest global economy, Brazil is now recognized as one of the five BRICS Nations (Brazil, Russia, India, China and South Africa). The country has export relationships with approximately 400 U.S. firms, including several located in the Greater Philadelphia area. Brazil's largest trading partner is China.
Over the past year, Odunde's organizers have been meeting with representatives from the City of Philadelphia and the Mayor's Commission on African and Caribbean Immigrant Affairs, the City's Convention and Visitor's Bureau, Select Greater Philadelphia and the Brazilian government, to produce a rare week-long cultural and economic exposure to Brazil. The week's activities will culminate with the annual Odunde Festival on Sunday, June 10.
WHO:

His Excellency Mauro Vieira, ambassador to the United States, Brazilian Government
Ney Campello, secretary of the Bahia Government, Department for Special Affairs of the 2014 FIFA World Cup Brazil
Oshunbumi Fernandez, CEO, Odunde Inc.
Stanley L. Straughter, chairman, Mayor's Commission on African and Caribbean Immigrant Affairs, City of Philadelphia
Approximately 200 business, academic and government leaders from the Greater Philadelphia area and Brazil
WHEN:
Tuesday, June 5, 2012
5:00pm – 7:00pm
WHERE:
Wharton School of Business
University of Pennsylvania
3800 Walnut Street, Huntsman Hall
Philadelphia PA