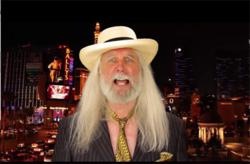 "Find the misspelled word in my video and win a great prize," said Dr. Hope.
Las Vegas, NV (PRWEB) June 05, 2012
Tim "Dr. Hope" Anders announces the Crazy Poker Hip Hop Find the Misspelled Word Contest.
"Yes, there is a misspelled word in my Crazy Poker Hip Hop Rap YouTube video (click here to watch it). Find it and you will win a critically acclaimed eBook," said Dr. Hope, "Just email the misspelled word to MissSpelledword(at)rocketmail(dot)com and if you are right, I'll send you one of my favorite books of all time. Here's a hint: The misspelled word is in the background."
Now, just by watching this informative and funny video, (and finding the misspelled word,) you can be entertained AND win a valuable prize. Any serious poker player will tell you that getting useful poker tips is ALWAYS sought after and important. Most times, it's a poker player's poker education that determines a win or a lose. Being entertained with side-splitting humor makes Dr. Hope's tips easy to remember. Plus, his hilarious "Crazy Poker Hip Hop video" now has the added benefit, for those with a sharp eye, of winning a precious prize.
"The whole point in making this video was to share a valuable poker attitude and have a great time being silly, one of my favorite pastimes. Now I have the chance to thank the thousands of people who viewed the video by having this free contest," said Dr. Hope.
About Dr. Hope:
Tim "Dr. Hope" Anders is an award-winning children's book author, musician and part-time professional poker player. His children's storybooks teach kids the power of believing in themselves, the joy in helping others, the love of laughter, to always try their best and the benefits of living in the present moment. All of these traits are evident in his video. You can read several of his storybooks for free online at: http://www.LaughingDay.com
The humor and optimism that is evident in the video he learned from his mother, a Broadway actress. He writes her story in the critically acclaimed true life love story of his parents: Everybody Calls My Father, Father. In it he reveals that his father was a Catholic priest. He exposes to the world the injustices and sometimes reprehensible acts of the Catholic church to which his mother fell victim. Dr. Hope's father never left the priesthood but instead hid for years his steamy romance and covert living arrangements from the suspicious eyes of the church. After spawning two children the deception become increasingly difficult to conceal.
"It was my mother's dream to share her life story with the world but was afraid of the repercussions that it might have on her children, she already had had a taste of the retaliation that came from the Catholic church. Now that she has passed away and with all the latest revelations exposing the sins of the Catholic church, I was compelled to tell her story," said Dr Hope. The book explodes with the raw emotion that only true love for one's soul mate can express. Excerpts of the book can be read at: http://www.EverybodyCallsMyFatherFather.com
# # #