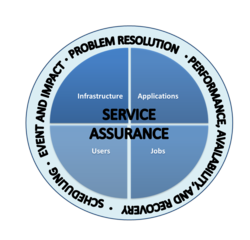 (PRWEB) June 06, 2012
As a solutions architect, Brad enjoys helping companies identify bottlenecks and common problematic components. He also likes providing adaptive solutions that help clients use APM effectively in their specific environments.
Brad explains, "I enjoy hearing what problems clients are constantly facing and helping them identify the source of those problems to create a workable solution. Rather than coming in and trying to push a certain agenda or 'preferred' approach for an APM configuration, I like to work with the client and try to provide them a solution that is desirable to them and doesn't require any policy changes or heartache."
He specializes in Introscope dashboarding and Scripting. These two tasks involve application diagram dashboarding, server specific dashboarding, high-level overview dashboarding, Bash and Perl scripting for Introscope shell actions and automated reporting, and EPAgent scripting via Perl or Java programs.
New to the team, Brad has worked with two major clients, CapGemini and GE Capital.
Success Story:
While working as an APM administrator at Duke Energy, Brad wrote a program to replicate Introscope management modules to other servers and environments. This program was used to automate management module creation across hundreds of application servers at Duke Energy, which saved the APM team hours of manual, error-prone work. The program has since been refined, packaged into the APM Toolkit that A&I is developing internally. It has greatly aided in the dashboarding, metric grouping, and alert creating processes at current client sites. In addition to this, other architects within the A&I Service Assurance Team have used the tool during deployments for their own clients.
Recommendation:
"I would like to thank the entire team, involved in the project, for successfully completing the project On Schedule and On Budget. The project was very well managed right from the planning phase till the closure. Special thanks to Brad for his support and for being flexible to work on weekend for production implementation. During the implementation phase we had some challenges which were handled very well with the help of Brad and the CA support team. Thanks to Altaf for closely following up with the CA support team to get the issues addressed on priority. Overall, we are satisfied with the way the project was executed."
– Sagar Melvanki, Capgemini
About A&I's Service Assurance
A&I Solutions' Performance Management and Monitoring team is a premier Direct Managed Partner and service provider of CA Service Assurance and Application Performance Management. Our Network Performance Management tools can help you continuously monitor application delivery across physical, virtual, and cloud environments. Ultimately, our team of experts assures that end-to-end application response times meet or exceed SLA's and business requirements. A&I Solutions has extensive experience in APM Introscope, CEM, DB Insight, Spectrum, eHealth, Nimsoft and Service Operations Insight.
About A&I Solutions
A&I Solutions is North America's premier provider of integrated enterprise solutions, dedicated to implementing solutions from CA technologies. A&I Solutions provides enterprise products and services to help companies achieve the highest level of performance. We focus on the best rated products and extensive experience to deliver comprehensive integrated Enterprise Solutions. Working with enterprise management, resource planning, service assurance, security and infrastructure monitoring, A&I helps organizations achieve their full potential by driving consistency and maximizing efficiency. Our proven methodologies, innovative best practices and deep technical experience produce better business results for our Customers. A&I has expertise across all IT environments - physical, distributed, cloud, virtual and heterogeneous platforms. We specialize in the following: CA Security Suite, CA Clarity, CA Wily - Introscope, CEM, SOI, NetQoS, Reporting - Business Objects, Crystal Reports, Actuate Reporting, Enterprise Integrations.
For more information please visit http://www.anisolutions.com .