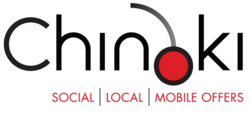 Chinoki will be more than just a tool to stimulate customer response. It will be a prerequisite for just about every business in the marketplace.
Bentonville, Ark. and Philadelphia, Penn. (PRWEB) June 06, 2012
Chinoki, a Philadelphia-based marketing company that connects local customers to local merchants in a new way, achieved a new milestone today with a totally revamped website, graphic design and mobile platform. This upgrade prepares the company to go national.
Starting with nothing more than a good idea for improving on the daily deal phenomenon and a few thousand dollars of his own money, Founder Matt Balin grew Chinoki to more than 240,000 consumers and more than 100 merchants in Philadelphia. Matt put up a functional website and did most of the programming himself to get the service started.
Now, the new website, which launched this week, is state-of-the-art technology inside and out, and integrates web and mobile technology. Importantly for Philadelphia, it signals the coming together of big players on the national marketing and technology scene who are joining to make Chinoki a national success story "made in Philadelphia."
Consumers who sign onto Chinoki ask to have offers sent to their email or SMS text from local merchants who subscribe to Chinoki.
This is what sets Chinoki apart from the daily deal services––customers receive offers and promotions ONLY from merchants they choose to hear from. They pick merchants by store name or category. They can opt-in to new merchants at any time. They can also opt-out from getting messages from individual merchants. Besides preventing unwanted offers, this prevents merchants from spamming their customer base. If they do, customers have the power to block them.
Chinoki has a strict privacy policy and does not sell customer information to anyone. Merchants don't see customer identifying information or have direct access to email lists. Only subscribing merchants can send out promotions through Chinoki.
Cherry Picking
Chinoki is not a made-up word. It means "cherry picker" in Japanese. Chinoki is all about cherry picking. Matt saw that people were tiring quickly of the new daily deal sites because they didn't give the consumer any choice.
The new Chinoki logo and website design features a big cherry. Axis Visual of Rosemont, Penn., did the design makeover to give Chinoki a look and feel that can compete in New York and San Francisco as well as in Philadelphia.
"Chinoki is a true game-changer when it comes to reaching the consumer," said Anthony Gargano, author and radio host that can be heard on CBS Radio in Philadelphia and nationally on Fox Sports Radio. "Chinoki will be more than just a tool to stimulate customer response. It will be a prerequisite for just about every business in the marketplace."
Good for Merchants
The secret to Chinoki's rapid growth is that it's good for merchants too. Chinoki technology gives local merchants the tools to target offers to customers who live and shop in the area and are likely to respond. It's an ingenious marketing service totally in tune with the revolution in mobile marketing in which customers expect to get timely, relevant and LOCAL offers on their mobile phones.
Blogger Marketing
Matt Balin uses blogger networks to promote Chinoki. The first surge in growth came from the collective efforts of "mom bloggers," women who broadcast their "faves" and raves to a surprisingly large and avid readership. The Mom bloggers love Chinoki because it helps mothers save money.
"It's refreshing to see a company that values consumers and thinks from the ground up," said Chelsea Day, mom blogger and owner of the site Someday I'll Learn. "Chinoki obviously understands their target customer. I'm a busy mom, and Chinoki gives me discounts on things I really want."
More recently, Chinoki has formalized its blogger marketing by hiring the Social Advertising company Collective Bias™, based in Bentonville, Ark. Collective Bias drives sales through retail-connected social media content created by its Social Fabric® platform, a community of over 1,700 influential shoppers.
The new website, design and mobile features are all the result of extensive marketing testing with the Social Fabric.
"Chinoki gets double benefit from working so closely with our community of tech and deal-savvy bloggers," said John Andrews, Founder and CEO of Collective Bias, and the founder of Social Fabric. "First they gain insight into the user experience with both the web and mobile sites. Then, they get these influencers talking about Chinoki with thousands of followers—all potential customers."
About Chinoki
Chinoki is an easy and smart way for consumers to stay connected with their favorite restaurants, bars, retailers and local businesses getting the best deals and discounts sent straight to their mobile phone. Chinoki is a targeted, choice-based SMS platform that lets businesses communicate with their current customers -- and new customers -- who are interested in hearing from them. For more information and to sign up, visit http://www.chinoki.com.
About Collective Bias
Collective Bias™ is a social advertising company that drives retail sales through the coordinated creation of social media stories. Its Social Fabric® influencers connect with the brands and retailers they use in their daily lives to drive conversations on a wide variety of social media platforms. Their stories build consumer engagement and brand loyalty, ultimately leading to sales conversion. For more information, visit http://www.collectivebias.com.