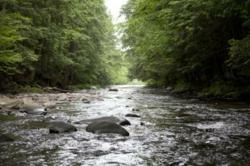 Margaretville, NY (PRWEB) June 21, 2012
Healing Camp is not the average "getaway." It's a rare opportunity to participate an inclusive "temporary village of health" created for the express purpose of delivering powerful Huichol healing for illness and the pain of modern alienation to anyone who desires it.
Benefit from five transformational days of Huichol Shamanic Healing on the sacred grounds of the Blue Deer Center, and discover that the medicine of the old cultures runs deep and exerts a very profound and lasting effect.
"Healing camp was like nothing else I have done. A life changing experience that continues to sound through my life, bringing with it a connection that I am deeply grateful for."

Eliot Cowan, Blue Deer Center's Founder and a fully initiated Tsaurirrikame (Huichol shaman), has lead over 50 healing camps over the past two decades. Through these camps and countless courses, he has extensive experience working with the full spectrum of life events from birth to death. Healing Camp is one of his unique contributions of wellness and community, bringing lasting Huichol healing directly to the pubic.
"On a friend's recommendation and a recent cancer diagnosis I signed up. I felt tremendous physical, emotional and spiritual healing from Eliot and his team. … I'm still feeling the blessings weeks later. I wish every human being could experience Healing Camp."
Blue Deer's Healing Camp includes daily private sessions with Eliot, fireside community gatherings, opportunities to connect with the natural world under the guidance of Justin Starting and Marakame Scott Sheerin, and personal reflection time. In addition, on-site lodging, nurturing meals, music and celebration is enjoyed throughout the week. Healing Camp with Eliot Cowan starts June 25th.
To read more on the benefits of Healing Camp and to register, go HERE.
Blue Deer Center provides an important setting for teachings and practices that promote balanced relationship with the natural world. They particularly welcome ancestral approaches to healing, ritual, and retreat. The Center's origins are rooted in the Huichol shamanic tradition and living connection to the universal and sacred spirit of fire.
For more information on the Blue Deer Center, visit their website at http://www.bluedeer.org or call 845-586-3225