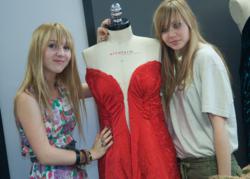 Los Angeles, CA (PRWEB) June 06, 2012
FIDM/Fashion Institute of Design & Merchandising offers an incredible summer program, 3 Days of Fashion 2012, for high school students who are interested in learning about a career in marketing, fashion buying, merchandising, fashion styling, or fashion design. The fashion college is holding 3 Days of Fashion at its four California campuses: Orange County (June 18-20, 2012), San Diego (June 21-23, 2012), San Francisco (June 25-27, 2012), and Los Angeles (June 27-29, 2012).
In three creative and inspiration-filled days, students will take workshops such as Draping the Dress, where they can create a three-dimensional design on a fitting form; Concept to Consumer, which focuses on design and merchandising; and Creating a Promotional Campaign, where they will work on a photo shoot and special event. Fashion campers will learn step-by-step how to sketch the nine-head fashion figure and have the chance to meet and work with other like-minded students on fun and creative projects.
Students will hear from successful graduates of the fashion school and learn from top instructors. Project Runway alumnus, FIDM Instructor, and red carpet expert Nick Verreos will make a special appearance at all campuses. For students considering a career in fashion, this three-day event is a chance to get a head start and learn more about FIDM and its amazing resources.
FIDM/Fashion Institute of Design & Merchandising is a specialized, private college dedicated to educating students for the Fashion, Graphics, Interior Design, and Entertainment industries. Known as a one of the top fashion design schools, FIDM is also a leading graphic design school and digital media college. Visit fidm.edu for more information.