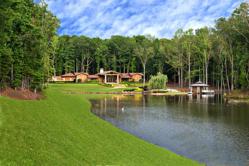 "My lake house is a one-of-a-kind property, so when I decided to sell it, I went to the experts at Grand Estates Auction Company," stated grammy-award-winning country legend Kenny Rogers.
Atlanta, GA (PRWEB) June 06, 2012
Award-winning singer and country music legend Kenny Rogers will be selling his secluded lakeside retreat outside Atlanta, and minutes from downtown Athens, Ga., on Tuesday, June 26, 2012. The home, which was custom designed to take advantage of exceptional property amenities including a fully stocked private lake with island, fenced horse pastures, and miles of wooded riding trails, all situated on 150 acres of virgin forest, will be sold via absolute auction by Grand Estates Auction Company.
Absolute auctions require no minimum bid or reserve price and are becoming increasingly popular with buyers and sellers of luxury real estate due to their timeliness and transparency. A team of experts prepares and markets the house for auction and can guarantee the home will be sold for a fair market value in 60 days.
"Grand Estates Auction Company is the most experienced and successful luxury real estate auction company in North America," stated grammy-award-winning country legend Kenny Rogers. "My lake house is a one-of-a-kind property, so when I decided to sell it, I went to the experts."
The custom, Polynesian-inspired, five bedroom, five-and-a-half bathroom lake home was built around a lanai and pool to perfectly integrate indoor and outdoor space. The resort-like home has been finished with superb craftsmanship including oak and marble inlayed floors, custom millwork, a gourmet kitchen, three-car garage, separate guest house, lush landscaping and enormous lake-side picture windows to take advantage of the views. The state-of-the-art home is equipped with fully-integrated audio, security systems and remote-controlled window shutters and is being sold fully-furnished and turn-key including a pontoon boat, SeaDoo and other recreationals.
"Not only is this a fabulous opportunity to purchase an incredible celebrity home with resort-like property amenities and meticulous attention to every detail, but buyers benefit from the auction process itself," said Scott Kirk, executive vice president of Charlotte-based Grand Estates Auction Company. "Luxury buyers and sellers are savvy business people who need a customized solution combined with a high level of service. The transparency and expediency of the auction process ensure a positive experience."
Through absolute auction, Kenny Rogers' luxury lakeside retreat will sell to the highest bidder on a predetermined day. There are no contingencies, no lengthy negotiations, and timelines for closing are already established. To help buyers make an informed purchase, a comprehensive due-diligence packet is provided, and ample time is allotted for tours and inspections prior to the auction. The exclusive luxury home will sell for fair-market value as determined by the registered bidders on auction day.
The auction will start promptly at 2:00 p.m. on Tuesday, June 26th. Provisions for remote bidding can be arranged. The property will be available for prospective bidders to preview beginning Friday, June 22nd at 11:00 a.m., with preview times daily through the date of the auction. Buyers may contact Grand Estates Auction Company's auction information office to schedule an appointment during one of the preview times by calling (877) 641-2854 or (704) 697-1834. A $100,000.00 certified check or personal check along with a bank letter of guarantee will be required to register to bid on the property. More auction details and a comprehensive property description are available at http://www.kennyrogersauction.com.
Grand Estates Auction Company is the leader in the niche market of auctioning luxury real estate, specializing in properties valued at $1.5 million and above throughout North America and the Caribbean. Established in 1999, the family-owned company was the first of its kind. The company is based in Charlotte, N.C. with offices in Atlanta, Dallas, La Jolla, Ca., Naples, Fla. and Vail, Colo. For more information visit http://www.GrandEstatesAuction.com.