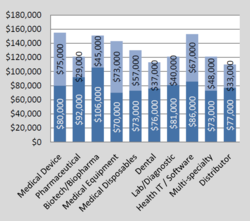 The 2nd Annual Medical Sales Salary Report gives our members, and all industry professionals, a credible benchmark for industry incomes.
Alpharetta, GA (PRWEB) June 08, 2012
With an average total compensation of $136,819, medical sales professionals continue to report impressive incomes. However, the 2012 data indicates less than a 1% increase over the average total compensation reported by medical sales professionals in the 2011 survey. Professionals working in medical device however, reported a 6% gain over last year. At $154,753, the average total compensation reported by this group was higher than that reported by professionals selling any other product or service into the healthcare market. Those in health IT/software and biotech sales jobs also reported incomes on the higher end of the spectrum.
The 2012 Medical Sales Salary Report not only looks at how income breaks down by product sold, but also by company size, gender, age, experience, and other influential factors. Age and experience have a fairly predictable impact on income, with increased years usually equating to increased income. Those working for large companies earn more, and employees make more than contractors. Interestingly, it appears that income increases with the amount of travel required by a job, but only to a point. Spending more than half of one's time on the road does not have a positive impact on earnings.
The Medical Sales Salary Report summarizes data from over 1,400 professionals currently working in medical sales. Reports specific to each of the main product types – medical device, pharmaceutical, medical equipment, and biopharma/biotech – are also available. In conjunction with the reports, MedReps.com launched a new medical sales salary widget to display the data. Users can input a variety of criteria and instantly see what professionals in similar situations are earning.
"We wanted our 2nd annual survey to be even more thorough than last year's," says Karyn Mullins, VP and General Manager of MedReps.com's parent company, Healthcare Staffing Technologies. "We not only asked more detailed questions, but we solicited twice as many respondents. The resulting report gives our members, and all industry professionals, a credible benchmark for industry incomes."
About MedReps.com:
MedReps.com gives members access to the most sought after medical sales jobs and pharmaceutical sales jobs on the web. Members have access to more than 10,000 jobs and can apply directly to the recruiters and hiring managers who post them. For more information on the leading site for healthcare sales, marketing, and management careers please visit MedReps.com.
MedReps.com is owned and operated by Healthcare Staffing Technologies, a member of the Jackson Healthcare family of companies. Jackson Healthcare is the fourth largest healthcare staffing company in the U.S. and serves more than four million patients in over 1,300 healthcare facilities. The company also provides technology solutions that enable total hospital efficiency.
Jackson Healthcare has earned national media coverage by providing innovative solutions to healthcare problems, in addition to championing local, national and international charitable work. It has been recognized as one of the Best Places to Work by the Atlanta Business Chronicle for five consecutive years. Visit JacksonHealthcare.com to learn more.