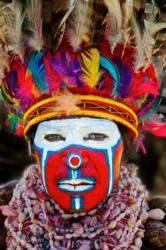 Various tribes and communities assert their pride and passions through competitive sing-sings or "shows."
Ann Arbor, MI (PRWEB) June 07, 2012
Lying north of Australia, Papua New Guinea (or PNG to those in the know) is the world's second largest island and the destination for a special JOURNEYS International exploration, the Highlands Sing-Sing Special.
Vast areas of PNG are uninhabited by humans, but are home to numerous bird, mammal, amphibian, insect and plant species still unknown to scientists. Few roads traverse this rugged terrain. Cultures separated by steep ridges speak different, mutually unintelligible languages; over 800 languages and dialects in all! Locals still discover gold nuggets left over from the Mount Kare Gold Rush and extract them without mechanized extraction equipment.
Head hunting is a thing of the past, but tribal warfare continues in a different form. Actual physical conflict is restricted to only using traditional weapons like spears and bows and arrows. More commonly, various tribes and communities assert their pride and passions through competitive sing-sings or "shows." These are exceedingly colorful, competitive encounters in which performers sing, chant, drum and dance to powerful rhythms dressed in ornate costumes, largely made from parrot and bird-of-paradise plumes. Wearing extravagant wigs, necklaces and vividly patterned face and body paint, these warrior-performers create the most variegated traditional culture festivals on earth.
The majority of festival attendees are locals who have come to cheer the performing delegation from their village. There is a great deal of raucous merriment and consumption of alcohol, so it's critical to travel with a knowledgeable (and sober) guide who will steer you clear of hazardous incidental cultural contact.
JOURNEYS has offered PNG show trips since 1988. Most of the trips sell out months in advance. JOURNEYS created this new trip In response to requests to break away from the expensive luxury lodges, offer more cultural contact outside of the sing-sings, and explore areas and geography beyond the usual itineraries. The Highland Sing-Sing Special, August 3 - 12, 2012, is a one-time-only exploration. Accompanied by JOURNEYS founder, Dr. Will Weber, the trip is limited to 8 persons and will include a visit to the most famous and largest sing-sing, the Hagen Show. It will also include a little known local crocodile festival in the Sepik River region and a village stay among the Waola people of the Mendi region.
If you want to enjoy a show trip this year, but prefer a higher level of comfort and a somewhat less active itinerary, consider the Classic Goroka Show Tour, Sept 5-18, 2012.
About JOURNEYS INTERNATIONAL
JOURNEYS International is the longest standing family-owned global ecotourism company in the US. JOURNEYS offers full-service exotic, guided cross-cultural explorations, nature safaris, treks and eco-tours in remote corners of Asia, Africa, the Americas and the Pacific. Founded by current directors Will and Joan Weber in 1978, JOURNEYS boasts an extraordinary record of client and staff satisfaction and several industry awards.