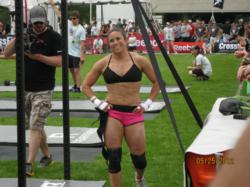 We are rolling out a first-in-class custom website from Cross-Fit-Websites.com for our members with a built in fitness journal
Middleton, MA (PRWEB) June 12, 2012
June 3rd, 2012 marked the one year anniversary since CrossFit Wicked opened to the public and marks an extremely successful first year for the local gym. CrossFit Wicked had three of their coaches qualify for the NE Regionals Reebok CrossFit Games and the team was impressive in their first year out.
In the Men's Individual Competition Coach Brent Miffitt and Coach J.P. Wioncek represented the CrossFit Wicked team and finished 22nd and 10th respectively, an extremely strong showing for the first year team. Scores of supporters drove down to Reebok World Head Quarters in Canton, MA to cheer on the CrossFit Wicked team.
In the Woman's Individual Competition Coach Alicia Gomes qualified for the World Championships in California with a second place finish after leading much of the weekend. Alicia Gomes ranked in the top 5 of all female athletes in 5 of the 6 events over the three day weekend and earned herself a spot among the fittest women in the country.
Co-owner Brian Crosbie said, "We're just thrilled to have had such a strong showing from our coaches but also our community of supporters. It was important for me to make sure our support tent was well stocked with an ice bath and protein supplements so our coaches could recharge their batteries between events. It also provided a spot for our fans to just hang out and meet up. It really was an excellent weekend."
Co-owner Joe Valenzuela added, "We're just so excited about how successful our first year has been on all fronts. We are rolling out a first-in-class custom website from Cross-Fit-Websites.com for our members with a built-in online fitness journal so we can better track and celebrate our members improvements. The new platform makes it easier for potential new members to learn about us, keeps our current members fully engaged and makes things easier on the administration side of gym ownership."
Both Crosbie and Valenzuela both point to their mission statement as a way to gauge how successful they really are.
"Our mission is to make you better at everything you do in your everyday life. We want you to feel great, look great, and live great!"
"A strong showing at the CrossFit Games and new investments into our gym and website are very exciting for us", Crosbie starts. Valenzuela completes the thought, "But seeing the improvements in peoples lives, health and mental well-being is where we measure our true success".
For more information on CrossFit Wicked in Middleton, MA you can check them out at http://www.crossfitwicked.com or call them at 978-304-0938. Introductory sessions are free for the first two weeks and there are no contracts.
For more information on CrossFit Wicked's new website, go to: http://www.Cross-Fit-Websites.com for a full overview of products and services available exclusively for CrossFit Affiliates.
Watch Alicia Gomes compete in the Championship live on ESPN on July 13-15, 2012 at the Reebok CrossFit Games for chance to win $250,000. For more information go to: http://games.crossfit.com/
CrossFit is a registered trademark of CrossFit, Inc. Cross Fit Websites is not affiliated with CrossFit, Inc.