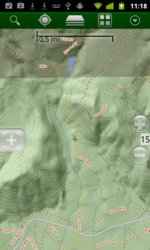 Camas, WA (PRWEB) June 07, 2012
CritterMap Software, maker of the Android GPS App BackCountry Navigator, has announced the availability of the AccuTerra(tm) Topo Maps for Android phones and tablets, through a licensing agreement with NeoTreks, Inc. This is available as an optional purchase for customers of BackCountry Navigator PRO.
AccuTerra Maps are already well known for their use in an iPhone app by the same name, and have been offered for Magellan outdoor GPS.
To get access to these topo maps covering the continental United States, users do not have to purchase additional software. Instead, BackCountry Navigator offers them a way to purchase a license through the app, and they can then preview or download the areas they need, as they do with other map sources. A video shows the AccuTerra topo maps in use on Android tablet.
The AccuTerra maps offer a number of benefits for hikers, hunters, and other outdoor adventurers, including higher contrast and readability, smooth shading of terrain, and recent research on trails, boundaries, and roads. As an additional benefit, the ground is colored according to land designation, highlighting many state and national parks or land.
Users have responded favorably to the chance to upgrade their outdoor experience, as more and more outdoor enthusiasts have discovered that with the right app and some preparation, they can venture beyond cell coverage and see more of the outdoors.
BackCountry Navigator PRO is available now for $9.99 from the Google Play Store (formerly the Android Market) on Android-compatible phones or at play.google.com. At the time of this writing, use of the AccuTerra map source is available as an in app purchase for an additional $19.99.
About CritterMap Software
Headquartered in Camas, Washington, CritterMap Software aims to make software and content for enjoyment of outdoor recreation. CritterMap Software is founded by an outdoor enthusiast with experience in both software development and land navigation.
###
For more information please visit http://www.backcountrynavigator.com/.